Chris Nash eyes Sussex title challenge after Somerset win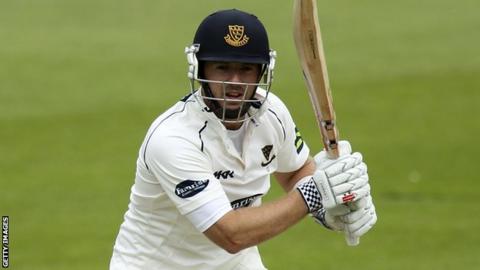 Sussex batsman Chris Nash believes the team are capable of maintaining their push for the County Championship title.
The Hove side moved to the top of the table after beating Somerset by nine wickets on Wednesday.
He told BBC Sussex: "It puts us in a good position and, yet again, we played some brilliant cricket.
"This is a real big part of the season now. We've got six games now and if we keep performing like this there is no reason why we can't be up there."
Sussex's win at Somerset, which was just their second County Championship victory in Taunton since 1983, maintains the side's unbeaten record in Division One in 2013.
Nash, who was acting captain for the game, was pleased with the way the team managed to secure the result before lunch on day three.
"We had a great partnership between Michael Yardy and Matt Machan and the bowlers, as a group, were fantastic," the 30-year-old said.
"We were very aware that we had to have a good first hour in the morning [of day three].
"Chasing 180 or 200 could have been hard so keeping it under 100 was fantastic. I was delighted the way the bowlers came out, stuck to their plans and it went to script.
"Four-day games at Taunton are very hard to win so we are delighted to take the points."
Despite their victory and moving to the top of the table, Sussex cricket manager Mark Robinson believes his side still have room for improvement.
"We haven't been at our best this game," Robinson told BBC Sussex. "There are areas that we need to get better in but that is us as a team.
"We are a growing and emerging team. Hopefully we can get better in time but at the moment we are doing some good things.
"We have to toughen up a bit mentally and sometimes physically. We have got some outstanding players but some of them are young ones who will hopefully learn and get better and better."