Ashes 2013: David Warner set for southern Africa match practice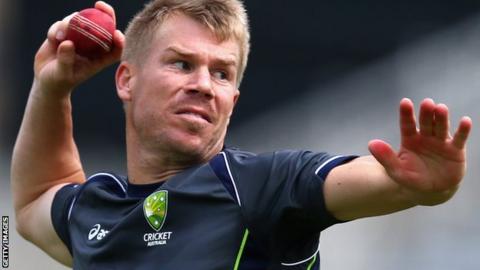 Australia batsman David Warner will travel to southern Africa to gain match practice with his country's A side.
Warner was suspended and fined after he punched England's Joe Root at a bar in Birmingham in early June.
The 26-year-old was banned until the start of the first Ashes Test match, which began on Wednesday.
He will join the Australia A side for a tour of Zimbabwe and South Africa, but remains a part of the Ashes squad, selector John Inverarity said.
"David has trained hard and been very supportive of the team and his team-mates during the past few weeks, but his preparation for the first Test was not ideal," said Inverarity.
"He is in need of match practice and runs in the longer format, and the Australia A games in Zimbabwe and South Africa will provide him with the best possible opportunity."
Warner has made three centuries and seven fifties in 19 Tests, averaging 39.46, but has yet face England in the five-day game.
Cricket Australia said that Warner will play in a three-day match against a Zimbabwe XI in Harare. That match begins on 18 July, the same day that the second Ashes Test starts at Lord's.
He will also play in Australia A's next match, an unofficial Test against South Africa A in Pretoria, which is due to end on 27 July. The third Ashes Test, at Old Trafford, begins on 1 August.
"David remains a member of the Ashes squad and will return to England at an appropriate time, once we're happy he has had adequate preparation in match conditions," added Inverarity.