Ashes 2013: England v Australia contest always delivers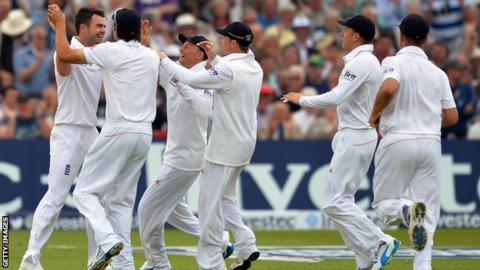 Other sporting contests may wax and wane. The Ashes, inevitably, delivers.
This has been billed as a one-sided series, a battle perhaps lacking the glamour and stars of previous incarnations. Oh, foolish us. One day in, the old love affair is proving as tumultuous and intoxicating as ever.
Fourteen wickets, almost 300 runs. A first-ball wide, a teenage debutant, a dramatic collapse. Two hat-trick balls, another collapse, a full house boozing and bellowing and a captain castled for a duck.
Elsewhere in the world, Test cricket might be in crisis, played out in front of empty stands and superseded by the tarty charms and easy pleasures of Twenty20. Not when England play Australia.
England were expected to make far more than 215. Australia were chastened to close on 75-4.
Those of us engrossed by the struggles and fightbacks of both should be less surprised. This is the 10th time that 14 or more wickets have fallen on the first day of an Ashes series. A sporting rivalry that has fired for 130 years was not going to splutter out overnight.
Quite what it means for the balance of power over the next few days - and remaining four Tests beyond that - is harder to divine. Sometimes the pattern is set, as in 2006 when Australia ended the opening exchanges on 346-3 en route to that 5-0 series win, or in 2002 when they closed on 364-2 to begin the march to a 4-1 overall triumph.
At other times - not least last time out, when England were dismissed for 260 on the first day in Brisbane yet bossed the series 3-1, or in 1997 when Australia were skittled for 118 but won the bigger battle - the first few blows have counted for little.
What made England's initial slump here so galling was not only the fact that they had won the toss but also that for large parts the tourists' bowling looked decidedly average.
The toss might have been something of a bum steer - only once since the Second World War have England won the toss in the first Ashes Test and won the match. The inexperience of the Aussie attack was indisputable.
Coming into this match, they had just 38 Ashes wickets between them, compared to the 352 of the 2006-07 vintage. Not the least insignificant reason for this was the shock selection of a 19-year-old, Ashton Agar, who earlier this summer was turning out for Henley in the Home Counties Premier League.
Agar did not quite turn to jelly, but like several of his team-mates he wobbled. On a morning where the low grey clouds created ideal conditions for swing bowling, two wickets fell yet 19 boundaries were conceded, every three good balls followed by a bad one.
The most incontinent was Peter Siddle, whose first four overs cost 27 runs. In the afternoon, aided by some woeful stroke-play from England, he tightened up and then let rip.
In some ways, Siddle is the archetypal Aussie sportsmen - fair-haired, relentlessly aggressive, never happier than when sticking it to the Poms. In other ways, he breaks the mould. How many other Australian fast bowlers have been committed vegetarians?
Here at Trent Bridge, he tucked into England's rump with carnivorous glee, forcing errors from Jonathan Trott and Kevin Pietersen, and dismissing Joe Root and Ian Bell with beauties.
Like others among his ancestors, he has previous. On the opening day of the series last time out he took 6-54, including a hat-trick; of the eight times he has taken five wickets in a Test innings, half of them have been against England.
Amid his snarling excellence, too many of the home side were culpable. This England batting order has issues to deal with.
For the third time in six first innings this year, not one batsman got to 50. The last six wickets fell for 37 runs, the last four for just two. Ian Bell, his travails hidden by the debates about Root and Nick Compton, now averages just 21 in 16 Test innings against Australia in England.
This being the Ashes, the story of the day was only half-told.
As the wickets kept tumbling, three in the space of three runs - Shane Watson to a characteristically strong-armed drive, Ed Cowan with a nerve-stricken edge, skipper Michael Clarke to a wonderful away-swinger from Jimmy Anderson for a six-ball duck - memories of the carnage of the recent past reared again.
If not quite in the extraordinary league of 2005 - Australia 190 all out, England 92-7 - or as bewildering as that day in 1997 (hot favourites Australia 118 all out, England 200-3) - only twice in more than 100 years have more batsmen been returned to the pavilion than traipsed back to the old wooden shed on Wednesday.
There was still time for Steve Smith, a hapless struggler three years ago, to launch a spirited riposte that included a straight six off Graeme Swann, and for Phil Hughes - as robust as meringue in his previous Ashes innings - to hang around in support.
With the injured Stuart Broad expected to be fit to join the assault on Thursday morning and Swann optimistic that he can find turn on this dry track that was absent on the first day, this match on fast-forward may continue to accelerate.
Those with tickets for the fourth and fifth days on the weekend may be dismayed by the harum-scarum speed of proceedings thus far. Prospects for the weeks ahead, however, are the stuff of smacked lips and cockles warmed.