Ashton Agar: From Henley CC to Australia Ashes Test hero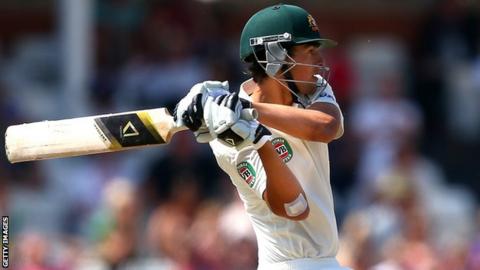 A quiet second day? Not a chance of it.
Ashton Agar's story was already a remarkable one - 19 years old, called up for his Test debut as a spinner having been playing, just a few weeks ago, for Henley Cricket Club in the Home Counties Premier Cricket League (Division One).
On Thursday afternoon at Trent Bridge, the fairytale became something even more fantastical.
When Agar walked out to bat at number 11 to face his first ever ball in Test cricket, his side were 117-9, still a monstrous 98 runs behind England. Five wickets had just fallen for nine runs. England were rampant, the tourists in pieces.
When he finally left the crease almost three hours later, Australia sensationally with a lead of 65, his own score a scarcely believable 98, both contest and record books had been blown apart.
So quickly did the novice score runs, so rapidly did the landmarks fall, that it was hard to keep pace - the first number 11 batsman in history to score a 50 on Test debut, then the second-fastest 50 on Test debut by an Australian batsman, then the highest score in history by an Aussie number 11, overtaking the man who had presented him with his baggy green cap on Wednesday morning, Glenn McGrath.
Never before has a number 11 scored so many runs in a Test. Never before has a last-wicket stand stretched so far. Not since the toddler steps of this great rivalry, at the Oval in 1896, has a number 11 top-scored in an Ashes Test.
Agar's batting would have been remarkable enough in a high-scoring game. But this was set in the context of almost total failure from his senior colleagues, of a six-ball duck from his skipper Michael Clarke, all achieved with authentic pulls and lofted drives rather than a tail-ender's slogs and snicks.
Neither was there much to indicate that this astonishing blitzkrieg might be on the way. Agar played three league matches for Henley, batted just once and made just four. His only decent knock for the club came in a pre-season friendly against Aston Rowant CC, when he biffed a breezy 54.
For long stretches of Thursday afternoon, England's much-vaunted attack looked utterly clueless as to how to dismiss him. Perhaps they should have spoken to Richard Cook, the 20-year-old batting all-rounder who did exactly that for Aston Rowant.
"He batted at four," Cook told me on Thursday afternoon, "but I didn't have a clue who he was. I just knew he was Australian. He had a yellow helmet, so we thought he might be quite good.
"They were going on quite nicely, on a good wicket, and he came in and started smashing it everywhere - normal cricket shots, all along the ground, but all going for four. So our skipper tossed me the ball."
By his own admission, Cook bowls nothing more than little medium-pacers. So how did he do what an attack with over 800 Test wickets between them struggled so badly to achieve?
"I bowled a good length ball at about 60mph. He tried to smash it over the sight-screen, but he was hitting into a gale, so the ball went over long on, blew back and was caught by our fielder, Chris Leaney.
"That was my first wicket of the game. In the whole of last season I only took about 10 wickets."
Agar, born in Melbourne, first registered with cricket-watchers down under when he moved to Perth to play for Western Australia.
After just two first-class matches he was called up into the Australia squad that toured India last winter, picking up four wickets in two tour matches and returning to his state a more rounded cricketer, pushing his batting average up to 33.60 with the assistance of a few not outs.
He found himself at Henley through a development scheme Cricket Australia have with Hampshire; the county side farmed him out to the club side to give him more game-time.
"We will feel a bit guilty if he plays a part in taking the Ashes off us, because we at Henley did all the paperwork to secure his visa," club secretary Michael Roberts told BBC Sport.
"We could tell straight away that he had something about him, a quiet confidence, but, to be honest, he didn't really stand out with us.
"He was clearly a good player, but not necessarily as a future international. On his first day training with us he misjudged the traffic and phoned up to apologise, but strolled in with a smile on his face and the attitude of someone ready to get down to business.
"I was surprised he went out as a number 11 because I thought he was at least better than James Pattinson and Mitchell Starc, but it's hard to believe he played so well. I am both staggered and delighted."
Four wickets taken for Henley against North Mymms caught the attention of then Australia 'A' coach Darren Lehmann, who called the teenager twirler into his young squad. Agar responded by hitting three half-centuries. When Lehmann found himself elevated to coaching the full side after the sacking of Mickey Arthur, his first act was to take both Agar and Steve Smith up with him.
Not in his wildest dreams could he have expected his punt to pay off like this. Agar was 100-1 to be top scorer in this match. No-one has yet admitted to laying a bet.
England supporters will argue that he should have gone for six, a curious decision from third umpire Marais Erasmus denying Matt Prior a stumping off Graeme Swann.
Equally, their bowlers failed to cope with what happened afterwards as he made merry, hay and hell. Steve Finn went for 32 runs off his five overs, Swann too often dropped short.
When Agar was finally dismissed, mis-timing a hook from Stuart Broad to Swann at midwicket, even the home fans packed into Trent Bridge were disappointed. One even felt sympathy for his partner Phil Hughes, whose 81 not out, by far his highest score against England, was utterly overshadowed.
He can take solace in the partnership's impact on both match and history. It is only the third time ever that a 10th-wicket pair have doubled their team's total. For significance it far outweighs the other two, when Peter Willey and Bob Willis took England from 92-9 to 209 for England against the West Indies in 1980, and when Peter Siddle and Nathan Lyon nudged Australia from 21-9 to 47 all out against South Africa two years ago.
"The partnership was absolutely extraordinary," said McGrath on Test Match Special.
"I remember my first innings at number 11 for Australia - I lasted one ball. At the start of this match I thought I was presenting a first cap to a bowler, not a batting all-rounder."
McGrath's words to Agar as he made the presentation were prescient. "Never, ever give up."
The bad news for England? Agar, lest we forget, is a bowler. And a very good one, according to those who have seen him close up.
"He's also probably the best spinner I've seen," says Henley captain Bjorn Mordt. "He's got great control, he's got a slider and a good arm ball. He just doesn't seem to get fazed."
The most topsy-turvy scorecard in the most topsy-turvy of Tests. Teenage kicks indeed.