Ashes 2013: Jonathan Agnew on Ashton Agar and DRS

By Jonathan Agnew
BBC cricket correspondent
Last updated on .From the section Cricket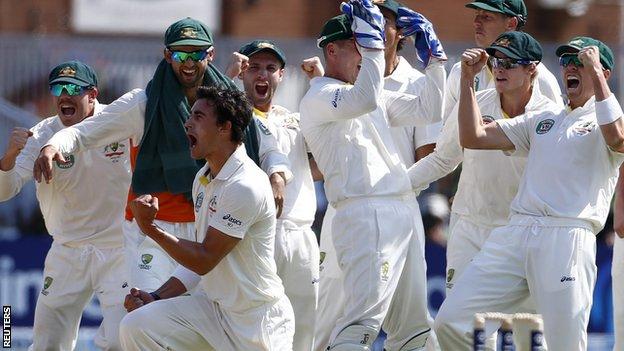 If the first day of the Ashes series was dramatic, the second was a day when you had to pinch yourself to believe what was happening.
One can only imagine the panic in the tourists' dressing room at that point, so to come out and bat in such a fearless manner was nothing short of astonishing.
This was a guy, remember, who was playing for Henley just a few weeks ago, but he played with the confidence and freedom of a man who been competing at Test level for years.
He out-scored Phil Hughes, potentially one of the fastest scoring batsmen in the world, and totally turned the game on its head by taking Australia from a deficit of 98 with nine wickets down, to a lead of 65.
Although Agar is primarily selected to bowl, the way he batted will stand him in very good stead when he does start to get among the wickets.
England, meanwhile, were simply not proactive enough in trying to devise a way of getting Agar out.
Rather than roughing him up with bouncers, they bowled too many long-hops and half-volleys and made it far too easy for him to score runs.
It was only when Stuart Broad started to pepper him with short balls that he finally took the bait and holed out to Graeme Swann at deep midwicket for 98.
Hours earlier, with his score on just six, Agar had been fortunate to survive a stumping appeal when, despite replays suggesting that no part of his foot was inside his crease, umpire Marais Erasmus declined to give him out.
The decision suggests to me that following Ian Bell's dismissal in the Champions Trophy final against India, the International Cricket Council has reminded umpires of the need to give batsmen the benefit of the doubt over such close calls.
It was a key moment and one which a majority of viewers would probably have given out but Test cricket is all about drama, controversy and heartbreak and Erasmus's call paved the way for an innings that will live long in the memory.
Later in the day came another major controversy, as Jonathan Trott was given out lbw by Erasmus despite television being unable to provide a HotSpot replay from the crucial side-on angle that would have revealed whether the batsman touched the ball.
The lesson for television companies must be that if a decision is sent for review, they are acting on behalf of the ICC and not their viewers.
Therefore, when Joe Root declined to review his dismissal for a catch down the leg side from the previous ball, they should have wiped the replay and been ready for the next ball.
Cricket and technology are still not comfortable bedfellows. The Decision Review System has helped to clear up a number of contentious decisions but they need to get the basics right with it - because we are still getting these controversies on a far too regular basis.
After all the drama of the first five sessions, it was a much quieter evening of play as Alastair Cook and Kevin Pietersen steered England to 80-2 at the close of the second day for a lead of 15 runs.
Their aim must be to bat for most of tomorrow because, even with Agar in their ranks, Australia would not like to chase more than 250 on this pitch.