Ricky Ponting: Surrey batsman says he would love to keep playing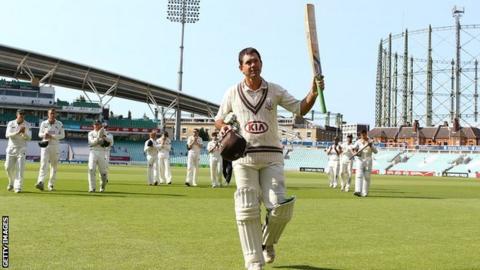 Ricky Ponting has said he would love to continue his career after an unbeaten 169 for Surrey against Nottinghamshire in his last first-class match.
Ponting will make his final appearances in the Twenty20 Champions League.
The 38-year-old Australian told BBC London 94.9: "I'd love to keep playing - it's in my blood. I'm a cricketer and someone that wants to keep competing.
"But I've got some other opportunities back in Australia outside of cricket that I've got to look after now."
The former Australia captain revealed he had not planned to end his career when he started his two-month stay at The Oval.
"I really had no intention of retiring when I signed for Surrey. I was thinking about playing another season back at home and seeing where that went," he said.
"But things have changed a little bit in life and I've got to do the right thing by my family. Those days (of playing) are almost over and I've got some other things to keep me occupied."
The second highest Test run scorer of all time reached a total of 24,157 career runs at the end of his last first-class innings, which earned his side a draw in a game which they had been in danger of losing.
He added: "I had no idea going into the game how many runs I needed for that sort of figure but I guess when you've been around as long as I have and played as many games as I have those sort of milestones are going to come along.
"It was a nice way to finish my first-class career though it would have been nice if it was in a winning team, but we probably didn't play well enough in the first couple of days to give ourselves a chance to win the game.
"We had to fight long and hard today and someone had to take the responsibility and bat through the whole innings, so it just happened to be my turn.
"That's what I've always prided myself on, standing up when the team needs you most and probably, frustratingly, for me it's what I couldn't do at the end of my international career.
"Since I've finished that and gone back to Tasmania I've played well there and then I came and had a short stint here and played reasonably well so it's been nice to be able to do it when it's mattered."
Every Nottinghamshire player shook Ponting's hand as he left the field at the close and he received a standing ovation from the spectators.
"It was the first time I've had an ovation walking off at The Oval to tell you the truth - normally I'm getting booed walking off here so it was nice," he said.
"There were a few members in today and a few of them probably realised that it was going to be my last day of first-class cricket and it didn't really hit home (for me) until I started walking up the stairs that it was all over.
"Out there in the middle I'm just wanting to bat and bat and bat and I'm not really thinking about anything else other than doing what I have to do for the team.
"I've really enjoyed the time here, they are a terrific bunch of blokes and it's nice to get a few runs for them."