Ashes 2013: England poised to strike fatal first-Test blow

By Tom Fordyce
Chief sports writer
Last updated on .From the section Cricket48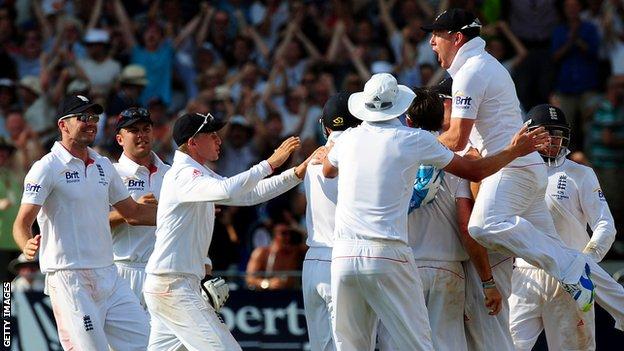 The only thing you could be sure of, for most of this utterly engrossing first Test, was that you couldn't be sure of anything. Now, at last, a little certainty has crept back in.
England were in control on the fourth day, lost it, got it back, lost it again and then finally, as shadows stretched across the parched Trent Bridge outfield and memories of 2005 rang ever louder in our ears, took what should be the decisive hold on a plot that has twisted like the beer snakes in the boozy stands all around.
This has been such a rollercoaster of a match that many have started to doubt the evidence of their own eyes. Fat edges to slip have been ignored. Teenage number 11s have top-scored. Fail-safe technology brought in to eliminate howlers has produced monstrous howlers of its own.
Even so, England will stroll out in front of Sunday's full house knowing victory is theirs to seize. Just four tail-end wickets stand between them and a series lead; Australia require 137 more, on a deteriorating track, to upset both odds and the history books.
The unlikely could once again usurp the logical. At Edgbaston eight years ago, Australia began the final day on 175-8, chasing 282, and famously fell just two runs and a Michael Kasprowicz forearm short.
With less than 12 overs of Saturday's play left, it appeared they might get there this time with a little more to spare - seven wickets in hand, more than halfway to their target, England's bowlers struggling to find turn off the pitch or wobble through the air.
As throughout the match, the exact moment one side began to believe, the other struck. Two wickets in two balls, three in 18, and a ground awash with dread, tension and fear was suddenly, ecstatically, alive.
A score of 161-3 became 164-6. Seesaws tipped. Sticky palms cooled just a little.
The key wicket, as on the penultimate Edgbaston evening in 2005, was that of Michael Clarke. This being the match it has been, even that did the hokey-cokey: out, in, out, in and finally out again.
That it was Stuart Broad who induced the little nick behind that Clarke refused to walk for was an irony lost on no-one. Neither was the fact that the umpire with the decision to make was once again Aleem Dar, who had missed such a gargantuan edge from Broad to Clarke to such uproar almost exactly 24 hours before.
England celebrated. Clarke waited. Dar signalled for a replay to see if the ball had carried. It had. England celebrated again. Clarke, shrugging, called for a review. The decision came down from above: clear nick. Dar's finger went up for the second time.
If Broad's refusal to walk had caused many to get lost in a moral maze, this as least simplified things. Romantics walk. Test batsmen don't.
The result should have been just as straightforward. No side has ever successfully chased more than 284 in the fourth innings to win a Test at this ground. Australia have only once chased over 250 in England, when they made that famous 404-3 at Headingley in 1948, dragged home by Don Bradman's unbeaten 173 and his great pal Arthur Morris's 182.
This Australian team is not within hailing distance of the Invincibles. But at 110-1 and then when Clarke and Steve Smith were in partnership, this outfit of old pros and young bucks looked like it might just be able to match their mighty deeds that day.
The tension, for the thousands sweltering in the stands, was at times insufferable. Throughout both afternoon and evening, every ball felt unmissable, every run scored or saved critical.
To England's rescue came Broad, his playing reputation restored as his personal one was questioned the day before.
In the morning his 65, from a partnership with centurion Ian Bell of 138, had taken England from a perilous slump to a commanding lead. In the afternoon that followed, his taking of the first wicket in Shane Watson and totem in Clarke were the pivotal breakthroughs in an exhausting war of attrition.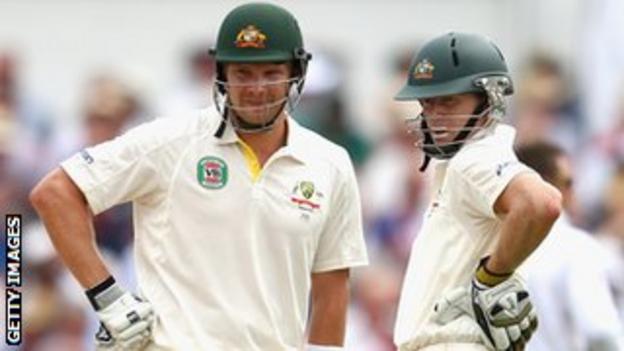 Broad's last Test fifty came more than 18 months ago. In 23 innings since then he was averaging just 13. With the ball in the first innings here he took just one wicket. To turn around his fortunes so quickly in such style was further proof of his critical role in this England team.
That this match has even gone into a fifth day is in some ways remarkable. There was a point, when England were 11-2 in their second innings just after tea on the second day and still trailing by 54, that some judges thought it might not get into a third.
Clarke is still insistent that his weary troops have a chance.
"The way we've seen this game, the ride of this Test match over four days, anything can still happen on Sunday," he said on Saturday evening.
"I won't be surprised if, come tomorrow, we don't lose a wicket and win after lunch. I still think there's some fight left in us."
In first innings hero Ashton Agar and vice-captain Brad Haddin he has men who can score runs; if each of the last four were to make their current Test averages, Australia would breeze it.
England, as they did on that Sunday at Edgbaston, should have enough to keep the miracles at bay. And this time, they should do so without inducing panic attacks in their watching support.