Ashes 2013: James Anderson the premier seamer - Agnew

By Jonathan Agnew
BBC cricket correspondent
Last updated on .From the section Cricket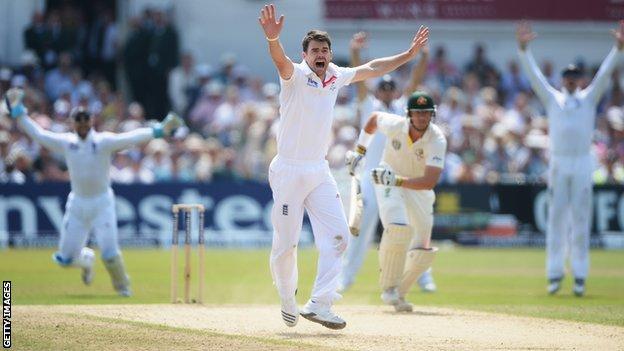 And so, after a nerve-shredding ending to the first Test at Trent Bridge, England and their supporters can breathe easy once more.
Their relief will be two-fold. In part, it will stem from having held on for a 14-run victory despite Australia coming within a whisker of an incredible triumph.
But of equal importance was the news that James Anderson will be fit for the second Test at Lord's, having revealed that it was only cramp that forced him from the field as a thrilling final day was building to its conclusion.
The lunch interval could not have come at a better time for England, giving Anderson a vital 40 minutes to recover from his exertions of the first session and steel himself for what proved to be a decisive final push.
Anderson is head and shoulders above every other seam bowler in this series and England would not be anywhere near the same force without him.
He really is very special and as a former swing bowler myself I can't help but sit there in absolute admiration of what he does.
His every ball is a challenge for the batsman. With metronomic accuracy, he bowls orthodox swing and reverse swing, cutters and slower balls.
What is most impressive is the way he disguises his deliveries, hiding the ball in his hands to ensure the batsman has no idea what is coming down at him.
The ball that dismissed Chris Rogers on Saturday was a case in point - a hidden slower ball that came out as a cutter and totally bamboozled a batsman who had just brought up his fifty.
Anderson is very much a modern cricketer in that he does not play nearly as much county cricket as England players did 20 years ago. That allows him time to practise and to perfect all these wonderful deliveries we see him produce in a match.
The challenge for Alastair Cook is not to overbowl Anderson, and the England captain came close to doing that on Sunday morning when he asked him to continue for 13 consecutive overs.
Cook's problem was the form of Steven Finn, whose two overs cost 24 runs, allowing Australia to accelerate towards their target.
The Middlesex man is a bowler short on confidence and Australia know it. In the manner of a pride of lions picking off an old wildebeest from the back of the pack, Australia attacked Finn because they could see he was struggling.
I cannot see Finn retaining his place at Lord's, which is a shame because it is his home ground and he actually bowls quite well there.
The best thing for him to do now is to go back to his county, take some wickets and get his confidence back.
The assault on Finn's bowling occurred during a last-wicket partnership of 65 between Brad Haddin and James Pattinson, who played very well under great pressure.
It was ironic that the wicket that finally broke their resistance came through an overturned umpire's decision.
On this occasion, technology provided the answer by revealing the slightest of contact with Haddin's bat, but it has been a mixed match both for the Decision Review System and for the umpires.
Cricket still needs to find a better way to make the technology work for everyone. The whole idea is that it is meant to stop arguments. At the moment it seems to be causing them.
With regard to the umpires themselves, it is of great concern that there are only four non-English or Australian officials - Aleem Dar, Kumar Dharmasena, Tony Hill and Marais Erasmus - on the ICC's elite panel, meaning the pool they can choose from for the back-to-back Ashes series is extremely limited.
With the Lord's Test beginning on Thursday, Australia have very little time to turn this around and pick themselves up.
In a way, losing by 100 runs is easier to take than losing by 14 because when you get so close to victory the sense of disappointment is more intense.
They have one or two problems to address in the batting department and will be giving some thought to the make-up of their bowling attack.
Whoever they pick, however, I think we will see another dry pitch and a similar sort of match, but perhaps not with quite such a remarkable ending.