Ashes 2013: Lord's ground guide, history and statistics
By Mark Mitchener
BBC Sport
Last updated on .From the section Cricket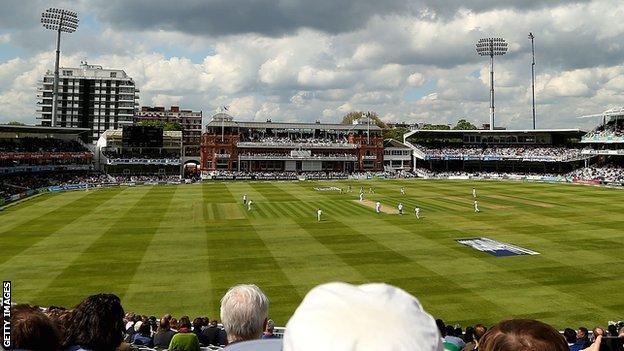 "The home of cricket" is a four-word phrase which immediately - and indelibly - places Lord's Cricket Ground at the heart of the sport it has treasured for so many years.
Owned by the famous Marylebone Cricket Club, who remain the guardians of the laws and spirit of cricket, Lord's is a historic venue where cricketers from all over the world dream of playing - and stages its 127th Test this week.
The present ground in St John's Wood is the third to have been established by its founder Thomas Lord, back in 1814 - so it will celebrate its bicentenary next year, with a phased redevelopment of some areas of the ground also on the horizon.
The venue for four World Cup finals, Lord's has also been home to county side Middlesex since 1877 - and two of their most famous England batsmen, Denis Compton and Bill Edrich, are honoured by having stands named after them.
Lord's in numbers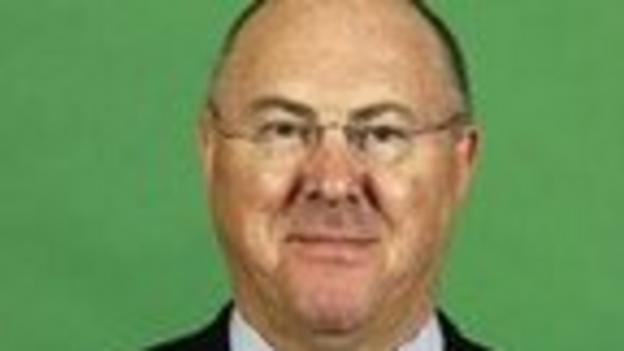 BBC Test Match Special statistician Malcolm Ashton presents Lord's Cricket Ground's Ashes records:
Ashes Tests: 34 (England won six, Australia won 14, with 14 draws - including the drawn Centenary Test of 1980 when the Ashes were not said to be at stake)
First Ashes Test: 21-23 July 1884. Two years after the famous "obituary for English cricket" was published in the Sporting Times, England won by an innings and five runs.
Highest Ashes total: 729-6 declared by Australia in 1930, in reply to England's 425, setting the tourists on their way to a seven-wicket win.
Lowest Ashes total: 53 by England in 1888, when WG Grace was the only Englishman to reach double figures in both innings as the hosts were skittled for 53 and 62.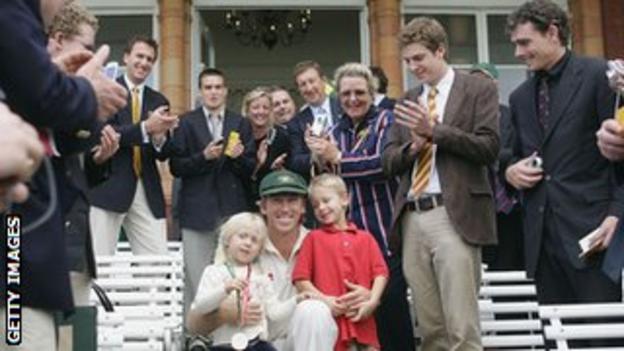 Highest individual Ashes score: 254 by Don Bradman in that epic Aussie innings in 1930. The next highest came eight years later, as England captain Wally Hammond made 240.
Most Ashes runs: 551 in eight visits to the crease by Bradman. As well as that 254 on his first visit in 1930, he hit an unbeaten 102 in 1938 and 89 in his final Test knock at Lord's in 1948.
Best Ashes bowling (innings): 8-38 by Australia seamer Glenn McGrath on his first visit to Lord's as England were skittled for 77 in the rain-affected second Test in 1997, which was drawn.
Most Ashes wickets: 26 by McGrath, who took full advantage of the Lord's slope in his three Test appearances there - 1997, 2001 and 2005.
Ashes runs scored: 30,467, for the loss of 1,007 wickets at an average of 30.26 runs per wicket.
Ashes boundaries: 2,830 (2,763 fours, 67 sixes)
Classic Ashes match - Second Test, 1972
It takes something very special for a five-day Test match to be automatically associated with one player, but the second Test at Lord's in June 1972 will always belong to a remarkable debutant - Australia's Bob Massie.
The 25-year-old right-arm swing bowler from Perth, Western Australia, was selected for his Test bow at the home of cricket after England had won the first Test at Old Trafford against an Aussie side who had not won a Test for over 30 months.
After Ray Illingworth won the toss and batted, Massie was chosen to share the new ball with tearaway fast bowler Dennis Lillee, and Massie soon claimed his first Test victim, bowling opener Geoff Boycott.
Although Lillee took the next two wickets to fall, Massie took the last seven to finish with astonishing figures of 8-84 as Lillee's hostility and Massie's late swing proved an irresistible combination.
England had collapsed to 97-5 at one stage but a late middle-order rally, led by Tony Greig (54) and keeper Alan Knott (43) and continued by Illingworth (30) and paceman John Snow (37) ensured the hosts finished with a respectable total of 131 early on day two.
When Australia batted, Snow was England's main bowling threat, taking 5-57, but the innings was anchored by the Chappell brothers - Ian hitting 56 and Greg stroking 14 fours in his 131. Keeper Rod Marsh chipped in with 50 batting at number eight, and while Massie collected a debut duck, the Aussies took a first-innings lead of 36.
England's second innings followed a similar pattern to the first as Lillee took the first two wickets before Massie swept up another eight, bowling unchanged for a return of 8-53 from 27.2 overs as England were rolled for 116.
Norman Gifford and John Price's last-wicket stand of 35 on the fourth morning was the best partnership of the innings, but even that left the tourists only needing to score 81 to square the series, which they did in short order with Keith Stackpole hitting an unbeaten half century.
Massie finished with match figures of 16-137 - at the time, the third best in Test history after Jim Laker (19-90 for England against Australia in 1956) and Sydney Barnes (17-159 for England against South Africa in 1913).
The figures remained the best by a Test debutant for 16 years, until bespectacled teenage leg-spinner Narendra Hirwani took 16-136 for India against West Indies in 1988.
What happened next? A draw at Trent Bridge, an England win at Headingley and an Australian victory at The Oval ensured the series was drawn 2-2 and the Ashes remained with England. Remarkably, after playing four Tests that summer, Massie only played two more - against Pakistan in 1972-73 - and was out of international cricket for good less than a year later.
Champagne moment - 20 June 1993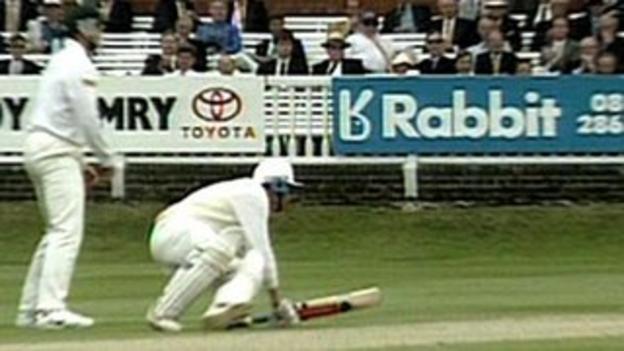 Australia were taking no prisoners in the 1993 series - racking up 632-4 before making England follow on, despite being a bowler short after Craig McDermott was taken to hospital with illness which required an operation.
McDermott's absence left the boisterous Merv Hughes having to do most of the seam bowling, taking the new ball with medium-pacer Mark Waugh in both innings.
It meant a heavy workload for rookie leg-spinner Shane Warne and off-spinner Tim May - but by the fourth afternoon, captain Allan Border was bowling left-arm spin to soon-to-be-England skipper Mike Atherton.
Atherton, on 97, guided Border through mid-wicket, knowing he was three runs away from a prized Test hundred at cricket's headquarters. He and partner Mike Gatting completed two runs and Atherton set off for the third which would bring his century.
But when Gatting sent the young right-hander back as Hughes threw the ball in from the boundary, Atherton slipped over - twice - as wicketkeeper Ian Healy removed the bails at the striker's end.
England managed to stretch the game into a fifth day, but Warne and May took four wickets apiece as Australia completed an innings victory to put them 2-0 ahead in the six-match series.
What happened next? Atherton became captain two Tests later, and eventually retired in 2001 after a distinguished playing career.
He is now a successful journalist and broadcaster, but never scored a Test century at Lord's - this was the nearest he came.
Australia won the series 4-1 to regain the Ashes, holding them until 2005.