Ashes 2013: England v Australia - the Test match that had everything

By Tom Fordyce
Chief sports writer
Last updated on .From the section Cricket128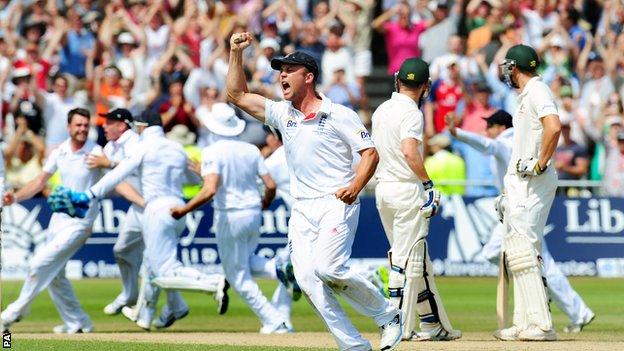 We should have guessed, after four and a half days with more twists and turns than the climb of Mont Ventoux, that there would be one last remarkable kick to come.
This was the Test match that had everything. It almost had too much, certainly for the thousands of England supporters who turned up on a sweltering Sunday to watch a victory parade and almost ended up at a funeral.
It was insufferably tense, relentlessly captivating, wonderful to witness yet at the same time as close to mental torture as sport can come.
For Australia to get so close to such a record-breaking target was unlikely at the start of play; fewer than 5% of teams chasing 300 or more to win a Test have ever succeeded. For them to be nine wickets down and 80 runs still adrift yet come within the thinnest edge of pulling it off was not just statistically improbable but close to miraculous.
Early apprehension in the stands had given way to boozy relief by the time last man James Pattinson joined Brad Haddin at the crease. Then Haddin took 15 off Steven Finn's first over back in the attack, and suddenly anxiety began to grip guts once again.
When Haddin then took nine more off Finn's second and Pattinson lofted Graeme Swann high over deep mid-wicket for six to bring the target down to 35, undisguised panic set it.
It was cricketing water-torture: run by run, drip by drip, each dot ball cheered with fearful relief, each nudge for one or scamper for two signalled by hands going to heads and heads going onto knees.
At Edgbaston eight years ago, Australia had needed 15 more when fast bowler Simon Jones dropped a difficult chance running in from the boundary. This time it was Finn in the role of sorry stooge. The tourists needed 26 runs when he dived to catch Haddin's lofted pull, 22 when the ball ricocheted off his outstretched palms and across the rope.
This being cricket, lunch was then taken. If it felt like madness breaking for cold meats and salad at the point in the plot when the baddie and good guy were into their final shoot-out, bullets in mid-air, it may equally have saved England's bacon.
Anderson, off with cramp before the interval, watched five more came off Swann's first over. Then, as throughout the match, he charged to his country's rescue.
Haddin was drawn forward, suckered into a big drive by one that started wide. You couldn't blame him. His side were a few lusty blows away from history. Neither could you be surprised that it took a review to confirm his demise, and trigger bedlam all around.
Technology and the review system has dominated this match. After failing before, it was also entirely accurate at the death.
There was irony at work when third umpire Marais Erasmus subsequently got the biggest cheer of all at the post-match presentation. But all present knew how narrow the margins had been.
Had Stuart Broad been given out when caught at slip by Michael Clarke on the third evening, as he should have been, Australia would have won this match by 14 runs instead of losing it by the same margin. If Ashton Agar had been stumped for six on the second day, the tourists would never have got close.
For Anderson it was a new peak in a career that has always reserved its best for this old ground. His four wickets on Sunday took him to 10 for the match, his spell of three for six in the first session reducing Australia to rubble before Haddin and Pattinson's astonishing recovery.
He now has a record 49 wickets in seven Trent Bridge Tests at an average of 17.34. Much as Ian Bell's century had set up the possibility of a win, Anderson's peerless skill with both old and new ball settled it.
For Australia it will be hard to bear. This was their fifth straight Test defeat, as bad a run as they have endured in 30 years.
Yet in brave defeat they can take significant heart. They came into this series unrated and inexperienced, with a 19-year-old debutant in the ranks and a coach only two weeks into the job. At 117-9 in their first innings they looked as if they could be thrashed within three days.
To instead push a far more experienced and battle-hardened England to the very brink will give Clarke and coach Darren Lehmann belief that they can compete in the four contests to come.
They will need it. With just a three-day turnaround before the second Test at Lord's, England have the momentum as well as the old urn.
They have now won their last three Tests against their great rivals for the first time since November 1986. The last time they won the first Test of an Ashes series, back in 1997 at Edgbaston, they still went on to lose the series. But this is a different side, playing an opposition as callow as that vintage was grizzled.
There will be concerns over the form of Finn, whose match figures of 2-117 will put him at risk of being replaced by the more accurate Tim Bresnan at Lord's. Equally, Australia have worries of their own, about the ability of Ed Cowan at three, about a batting line-up that loses wickets in bursts.
The neutral watching on over the last five days might have wished for an Australian victory to set up the series ahead. Had they pulled off this great heist, the aura of 2005 would have indeed been alive as the circus moves to the capital.
But neither is it entirely absent. Almost lost in England's wild celebrations when Aleem Dar finally raised his finger to signal Haddin's end was the sight of wicketkeeper Matt Prior breaking away from his side's bouncing bear-hugs to commiserate with the distraught Australian vice-captain, just as Andrew Flintoff had Brett Lee at Edgbaston on that other nerve-shredding Sunday.
For all the questions asked of it, both the spirit of cricket and its incomparable allure survive and flourish.