Michael Klinger: Gloucestershire unhappy with twenty20 pitch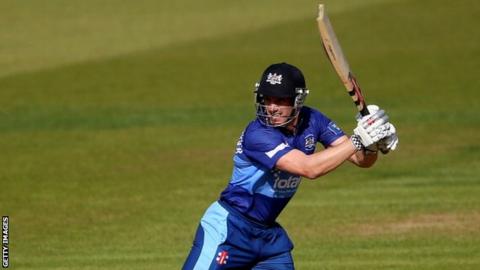 Gloucestershire have apologised for the state of the wicket for the club's first ever Twenty20 match at the historic Cheltenham Cricket Festival.
Captain Michael Klinger and chief executive Tom Richardson expressed regret about the pitch after their six-wicket defeat by Warwickshire.
Klinger told BBC Radio Gloucestershire: "No one expected the wicket to be in such a poor standard for t20 cricket.
"We apologise to the crowd for that. It certainly wasn't what we asked for."
He continued: "We always try and get the best cricket wicket we can. But saying that, it was the same for both teams and we've just got to be better."
When Gloucestershire, who were bowled out for just 96, initially announced their decision to play a Twenty20 game at the College Ground, the club cited the quality of the wicket as a reason for introducing the format to the festival.
But chief executive Richardson said in a statement on the club's website after the close of play: "I would like to apologise for the state of the pitch, which was poor. We were extremely pleased with the four-day pitch against Kent and everybody expected something similar for today's match.
"That did not happen, and we wish to reassure all our fans that we will do our utmost to ensure that we maintain our usual, very high standards of pitch for the remainder of the festival."
Gloucestershire have three more fixtures at Cheltenham - T20 matches against Northants and Glamorgan on Tuesday and next Sunday, either side of the four-day Championship Division Two game against Worcestershire from Wednesday to Saturday.