Somerset: Andy Caddick criticises Dave Nosworthy understanding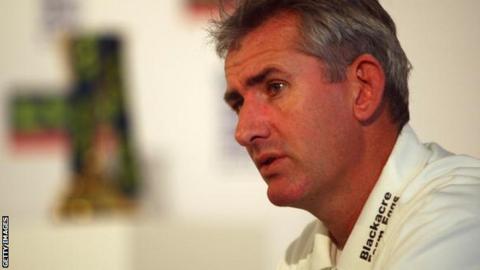 Somerset legend Andy Caddick has said director of cricket Dave Nosworthy needs to improve his understanding of the team and English traditions.
South African at Taunton in December 2012.
Caddick, 44, told BBC Somerset: "He's got to understand the team that's already here.
"He's got to understand the English traditions, the English culture, the way the English play their cricket and the English set up."
Caddick continued: "He's got to give the people who are under him, and the players, the time to understand what they do and why they've been so successful."
Somerset, who finished second to Warwickshire in Division One of the County Championship last year, are currently seventh this season and only two points clear of the relegation zone.
They are fourth in their FL t20 group, but sit top of Group C in the Yorkshire Bank 40.
The former England seamer also said Nosworthy needed to ensure he did not interfere with the work of head coach Andy Hurry, and voiced concern at the overall coaching structure.
"As I see it, a director of cricket is a person who directs cricket, he doesn't direct the team," New Zealand-born Caddick added.
"That's the coach's job. You've got to back the coach, who's been doing it for the last six or seven years.
"My concern right now is that we haven't got the structure in place.
"What playing staff do you turn to if you have a bowling issue or a batting issue? We can't, we've got nobody in place.
"That's my biggest concern. How are you going to attract players around the country to come to this club if you don't have world-class coaches in place?
"Who do you turn to in this team right now to try and get things right? At the moment it's senior players.
"Well, if the senior players aren't doing the job at the moment, who can you turn to then?"
Caddick, who played at Taunton for 18 years, said he would be happy to fulfil a mentoring role with Somerset.
"We need the infrastructure in place and we need that sooner rather than later," he said.
"I find it very frustrating that I've been away from the game for four years and I still haven't been asked to come down and do some coaching with the boys.
"I'd love to get involved and be brought on board as a consultant."