Northants wary of Mohammad Azharullah future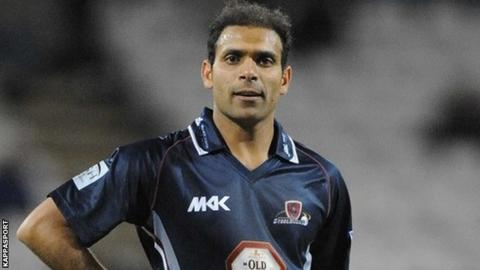 Northamptonshire head coach David Ripley has said seamer Mohammad Azharullah is likely to attract interest from other clubs.
The Pakistan-born 29-year-old took career-best Twenty20 figures of 4-14 in
And he has taken 11 wickets in the competition this season.
"It is a worry when you're a perceived small club because somebody could offer him a bit more money than we could," Ripley told BBC Radio Northampton.
"There's not as much loyalty in cricket as there was and rightly so, players have short careers. But I hope we've got that covered in the short term."
Azharullah had not played professional Twenty20 cricket for four years when he signed a 12-month deal with Northants this spring.
Having played for Multan Region, Multan Tigers, Quetta Bears and the Water and Power Development Authority in Pakistan, he moved home to Yorkshire in 2006 and recently acquired British residency.
He has drawn praise and admirers this term with first-class figures of 11 wickets at an average of 20.27 and eight wickets at an average of 15 in the YB40.
"He's been a revelation has Aza. He's a great bloke who contributes in the dressing room and he's a very skilful bowler," said Ripley.
"I was quite excited when I first saw him. The contract includes an option for next year and that was important for us.
"He backed himself financially. We had no money in the budget and he took a hit in the hope of putting himself up the pecking order next year."