Neil Dexter: Middlesex FL t20 hopes in the balance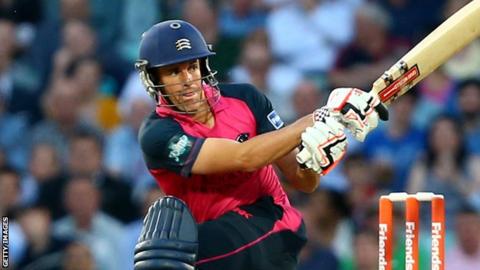 Middlesex captain Neil Dexter says that their FL t20 defeat by Hampshire has left their hopes of reaching the quarter-finals in the balance.
The Panthers are currently third in the South Group with three games remaining.
He told BBC London 94.9: "We need to keep our heads up and put it behind us as quickly as possible. We are still in it and are playing some good cricket.
"We have got to look to win every single game to give us a good chance of qualifying now."
He added: "We never make it easy for ourselves."
Middlesex have won four and lost three of their seven group stage matches, including the seven wicket defeat by Hampshire on Sunday.
Dexter says Hampshire deserve credit for their performance at Richmond, which saw them reach their target of 163 with 29 balls to spare.
"If we are going to progress in this tournament then there will be times that we need to set a score," the 28-year-old said.
"It was a fresh wicket but Demi Mascarenhas bowled a great spell up front. Their lengths were brilliant but when we went out we bowled too short or too full.
"We have got to adapt to wickets like that and I don't think we did that well enough.
"They batted extremely well. We need to take our hats off to the way they approached their innings.
"It is the first game we can say that we didn't play well. You are going to have these games but you can't have too many of them."
Middlesex face Sussex Sharks at Hove on Tuesday in their next FL t20 group match.