Cornish cricketer Andrew Brenton hits 311 runs in 40 overs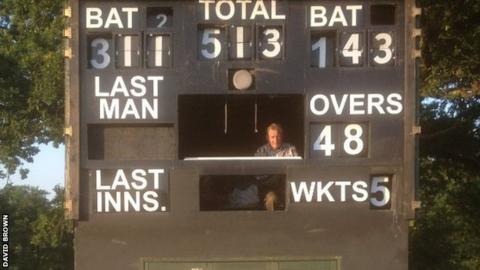 A club cricketer from Cornwall has hit an astonishing 311 runs for his local side - in just 40 overs.
Luckett batsman Andrew Brenton set a new record for the highest individual score in Cornish cricket history, hitting 53 boundaries and 11 sixes.
Brenton's remarkable innings helped his side reach 513-5 off 48 overs - another Cornish record - against Tideford.
Batting at three, the self-employed builder came in during the fourth over and shared 468 for the second wicket.
That partnership - with opener Jack Sleep contributing 143 runs to the mammoth total - saw the team's score move from 5-1 to 473-2.
He was eventually dismissed in the 44th by bowler Nick Pooley, who also took the wicket of Sleep.
It helped Luckett win the match at Chapel Field by 313 runs after Division Two East opponents Tideford made 210-6 in reply.
Tideford's bowling figures made painful reading, with David Lockett and Elliot Goss each conceding 100 runs and not a single maiden over sent down during the innings.
Brenton has steered clear of the limelight after his astonishing performance, declining requests for interviews about his innings.
"Andrew's a really down-to-earth guy - we had to drag him out to pose for the photo next to the scoreboard," club official Ian Roberts told BBC Sport South West.
"He's just a very good cricketer and I'm sure he could play at a higher level and get paid for his troubles but he just wants to play with his mates at Luckett - that's Andrew all over.
"He's a talented all-round sportsman, he's a great goalkeeper as well!"
The previous Cornish individual record of 300 was set by Penryn's Adrian Winnan in Division Eight West in 2000, while the previous top team score was Tintagel's 438-3 against Stoke Climsland in Division Three East in 2002.
In professional cricket, the highest one-day total is 496-4, made by Surrey in a 50-over game against Gloucestershire at The Oval in 2007.