Ashes: England reliant on James Anderson, says Adam Gilchrist

By Sam Sheringham
BBC Sport at Lord's
Last updated on .From the section Cricket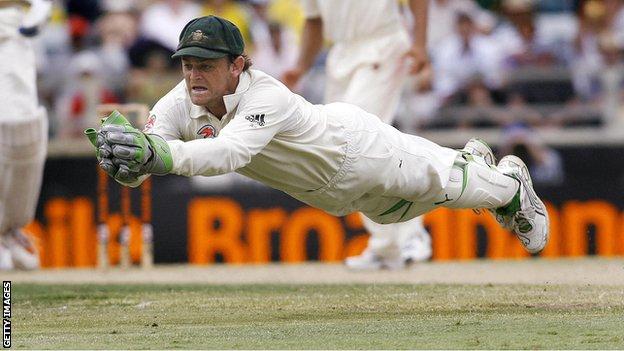 Former Australia wicketkeeper Adam Gilchrist says the current team can capitalise on England's dependence on James Anderson by taking on the hosts' other bowlers in the second Ashes Test at Lord's.
Meanwhile, Stuart Broad, Steven Finn and Graeme Swann all toiled without reward as Australia's final pair of Brad Haddin and James Pattinson put on 65 to take them within sight of an incredible win.
Haddin struck three consecutive fours off Finn's bowling, while Pattinson lofted Swann over mid-on for six.
"Australia hold Anderson in so much higher regard than the rest of the attack," Gilchrist, who dismissed the reported rift between Australia captain Michael Clarke and batsman Shane Watson as "old news", told BBC Sport.
"They are very, very wary of him and concerned about how consistent he is in any conditions.
"Brad Haddin took a strong attack to Steven Finn and even Graeme Swann, who was off his game to an extent.
"That huge feeling of reliance on Anderson, maybe they can use that to their advantage when coming up against the other bowlers."
Gilchrist, a brilliant attacking batsman who claimed 416 Test dismissals, won three Ashes series and three World Cups during a 12-year international career.
He has been in regular contact with the Australian team and paid them a visit after arriving in London on Tuesday morning.
Following a chaotic build-up in which batsman David Warner was suspended for punching Joe Root and coach Mickey Arthur was sacked, Gilchrist believes Australia are now a unified camp under new coach Darren Lehmann.
He said the "major tension" between Clarke and Watson - cited by Arthur in leaked legal documents - is a thing of the past.
"I spoke to Michael and Shane the morning that those remarks came out and they were laughing - not at Mickey, but because they had moved on," said Gilchrist.
"After the match at Trent Bridge they and the rest of the team shared a few drinks together and enjoyed each other's company.
"There has been a change and those two guys have addressed any issue has been there and they are ready just to look forward."
Gilchrist revealed that the only time he had experienced a splintered Australian dressing-room was in 2005, when England wrested the Ashes from their grasp for the first time in 18 years.
"Factions started to form and socialising, meeting up in the bar, those little bits that make up the fabric of a good team seemed to disintegrate," he added.
"I think we got lazy in a lot of areas, not least our team make-up. A lot of individuals started to annoy a lot of individuals. Our team spirit and the team culture was shattered."
Eight years on, Gilchrist believes Australia's current team have been galvanised under coach Darren Lehmann and are capable of fighting back from 1-0 down to reclaim the Ashes.
"When I saw the 'Hot Spot' appear on the inside edge of Brad Haddin's bat [for the final wicket at Trent Bridge] I had the feeling that that might have been the game and the series gone," he said.
"But I saw the guys at training today and I sense there is a real uniform, combined team ethos that has been missing for a little while.
"England maintain their favourite's status. They are a better team than we are at the moment but we are in with a chance."