Glamorgan one-year contract 'disappoints' Murray Goodwin
Last updated on .From the section Cricket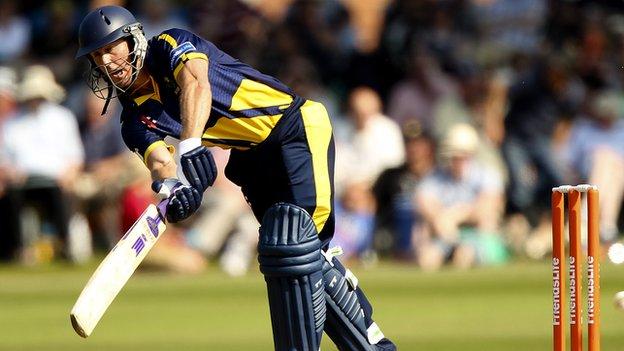 Veteran batsman Murray Goodwin hopes his innings of 194 against Lancashire proves he can still perform at the top level.
Goodwin, 40, is on a one-year contract at Glamorgan in spite of asking for a two year deal when he joined from Sussex.
The batsman admitted "bitter disappointment" at not passing 200.
But Zimbabwean Goodwin is equally unhappy with his contract, saying: "I felt I definitely had two years in me."
With a first-class average of 44 runs from a 22,898 total spread over 306 games since his debut in 1994-95, Goodwin still believes he has much to offer the Welsh county.
He added: "I was offered a one-year contract, which I was a bit disappointed in because I felt I definitely had two years in me.
"And I'm hoping that I'm proving to the club and to the team that I am still good enough to be playing this level.
"And I'm still enjoying it - that's the most important thing.
"I love the challenge of batting out there. I love trying to set an example for some of the younger cricketers.
"And I also am enjoying the environment, the team environment."
However, Goodwin did not enjoy the end of his knock against Lancashire.
"I tried to do the right thing and I'd hit the ball on the ground to a long-hop and unfortunately it was a brilliant diving catch [by Andrea Agathangelou]," said Goodwin.