Ashes 2013: DRS best left with players not umpires - Alec Stewart

By Alec Stewart
Ex-England captain & Test Match Special summariser
Last updated on .From the section Cricket100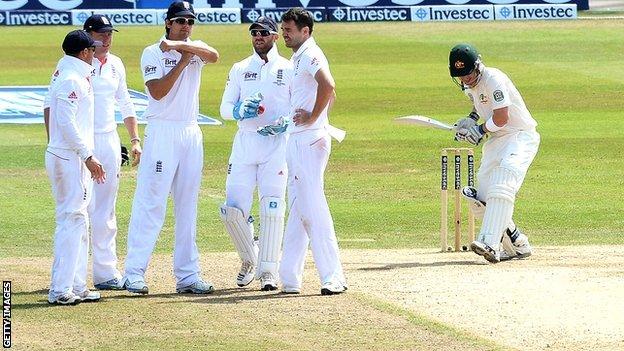 The thrilling first Ashes Test at Trent Bridge proved once again that Test cricket is by far the best form of the game.
All five days were full of drama, with moments of high-quality cricket and sudden shifts in momentum interspersed with controversies over umpiring decisions.
Anyone who questioned my opinion that this Australia team would battle hard against England may want to reflect on the first five days of the series.
I still expect England to win the Ashes with something to spare, but Australia will not just lie down and allow themselves to be walked over. It simply isn't in their DNA to do so.
The obvious highlight for England was the bowling of man-of-the-match James Anderson, who took five wickets in each innings, but I also hope Ian Bell has finally banished the perception that he only scores easy runs, because without his 18th Test century England would have been in deep trouble.
After a match littered with contentious moments, it was hardly surprising that England would require a review to overturn an umpire's decision and finally claim the decisive wicket of Brad Haddin on Sunday morning.
In the aftermath to a Test that also featured debatable dismissals involving Jonathan Trott, Ashton Agar, Stuart Broad and Michael Clarke, a lot has been written and said about the relative merits of the Decision Review System (DRS) in its current form.
Haddin himself echoed the comments of former umpire Daryl Harper in stating that he would prefer reviews to be taken out of the hands of players and given over solely to the umpires. This would allow the on-field officials to check their decision with the television official before delivering their final verdict.
My worry, however, is that too much time would be taken out of the game and the skill of umpiring would amount to counting six balls for the over.
I played in the Champions Trophy in Sri Lanka in 2002 when the International Cricket Council trialled a system which enabled umpires to review lbw decisions and disputed catches. This simply resulted in almost every decision being sent to the third umpire, creating long delays while replays were assessed.
When the players decide to review a decision, it adds to the drama of the match. The crowd are left in suspense while the batsman waits to learn his fate, replays on the big screens start to offer clues as to the outcome, and there is always a big reaction when the umpire either upholds or overrules his original verdict.
If you had a system where umpires could check with technology before making a decision, you would dilute what has become an extra bit of theatre within the spectacle of the game itself.
I would favour a more subtle change to the current system that would allow teams to keep the review if they lose out due to an "umpire's call", the term used when the on-field umpire's original decision stands because the TV analysis is within established margins of error.
By that rationale, if an umpire gives a batsman out lbw, but Hawk-Eye reveals the closest of calls with the ball striking the outside of leg stump, the batsman would still be out but his team would not lose a review.
Likewise, a fielding team would not be penalised for reviewing a not out decision when the verdict is an umpire's call.
At the moment, it feels like a double whammy when not only does a decision go against you, but you also lose a review in the process.
One thing that the first Test showed is that how you use the DRS is now a make-or-break part of international cricket and captaincy.
Australia wrongly reviewed seven decisions over the course of the Test match, meaning they were powerless to overturn umpire Aleem Dar's not out verdict when Broad was caught at slip off Agar, and were left with no remaining reviews going into Sunday's finale.
Meanwhile, England were far more cautious over DRS, only using it if they believed there had been a serious error.
Captain Alastair Cook has learnt from his predecessor Andrew Strauss - who used the system better than any other captain - that you need to keep a cool head and not let emotion or adrenalin influence your thinking when deciding whether or not to send a decision to the third umpire.
Umpiring is the hardest job in cricket. Like players they make mistakes on the field of play.
DRS is ensuring that more correct decisions are made more of the time, and that surely can only be a good thing for cricket.
The system is not 100% perfect, but what in life is?