The Northern Knights clinch wins in Inter-Pro T20 games
Last updated on .From the section Cricket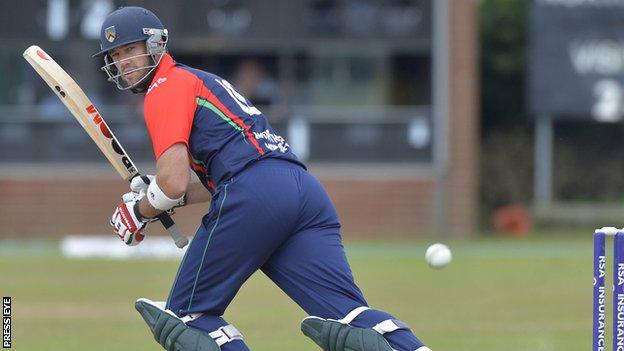 The latest games in the inter-provincial series on Tuesday saw the Northern Knights clinch T20 wins over previously unbeaten Leinster Lightning and the North West Warriors.
Nigel Jones hit 77 as the Knights beat Leinster by five wickets in the opener at Comber.
James Shannon's 62 was then the main factor as the Knights earned a six-wicket win over the Warriors.
Leinster's run-rate still leaves them favourites to win the T20 competition.
The T20 Trophy will be decided in the final round of games on Sunday at Bready with Leinster and Northern Knights level on two wins each.
If both are successful in their respective game against the Warriors, then the trophy will be decided by superior net run rate with at this stage Leinster's significantly superior.
North Down teenager Peter Eakin was the bowling star for the Knights in the morning match, conceding just 15 runs from his four overs while picking up the wickets of the Poynter brothers, Andrew (37) and Stuart for 23.
David Simpson and Nigel Jones each took two wickets, with Jones getting the vital wicket of Lightning skipper Kevin O'Brien for just 5.
While a final total of 143-8 was considered under par on a flat track and quick outfield, it was still a challenging one given the depth and quality of a Leinster attack containing four senior internationals.
That total looked even more daunting as Eddie Richardson (3-23) removed Andrew White and James Shannon in quick succession, but Jones rose to the challenge with a magnificent attacking knock.
The former Irish international, now employed by Cricket Ireland as development officer in the NCU region, practised what he preaches to his young charges, as he hit eight fours and four sixes in his match-winning 77 from 55 balls.
In the second game, the Warriors needed an unbeaten 51 from Johnny Thompson to post a respectable 144-5.
However, Shannon hit six sixes in his 42-ball 62 to steer the Knights to a six-wicket victory with an over to spare.
Inter-Provincial Trophy
Match One
Northern Knights 147-5 (19.5 overs, N Jones 77, L Nelson 30, E Richardson 3-23) beat Leinster Lightning 143-8 (20 overs, A Poynter 37, S Poynter 23, P Eakin 2-15, D Simpson 2-31, N Jones 2-35) by five wickets
Match two
Northern Knights 148-4 (19 overs, J Shannon 62, L Nelson 37 not out) beat NW Warriors 144-5 (20 overs, J Thompson 51 not out, A McBrine 24, RL Dougherty 20, B Wylie 2-19) by six wickets