Brendan Nash: Kent batsman reflects on retiring on 199 not out
Last updated on .From the section Cricket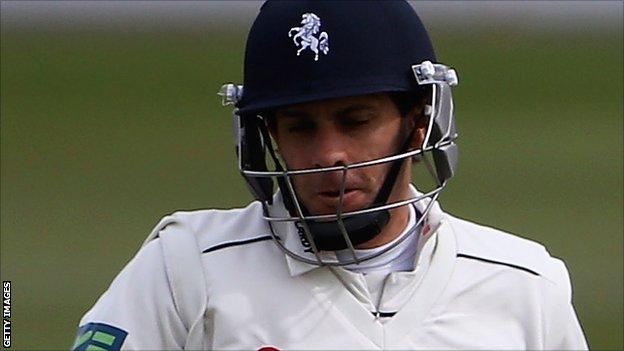 Kent batsman Brendan Nash says he had no choice but to retire hurt against Gloucestershire on Saturday, despite being a run short of a double century.
Sunstroke forced the 35-year-old off after over five hours at the crease.
He told BBC Radio Kent: "It's not something I've really ever experienced before. I was quite dizzy and had slight blurred vision.
"I couldn't physically swing the bat that well so I didn't know what use I would be out there anyway."
The former West Indies international helped his side to within 21 runs of victory at Cheltenham before having to retire but Kent eventually won by two wickets to record their first County Championship win of 2013.
"The reason I didn't come off earlier was that I was only facing one or two balls an over. James Tredwell was taking the rest of the over," he added.
"Towards the end I was facing two or three balls an over and that's when I started to feel like a boxer on the ropes.
"I felt that if they got one right and lined me up it would have hit me."
Nash says he was not aware he was on the brink of the milestone of 200 runs.
"I didn't look at the scoreboard for a while so I didn't realise I was that close," he said.
"I thought I was around 195 or 197. Treddy kept telling me how many runs we needed in between overs because I couldn't focus at the scoreboard.
"I didn't know when we won as I was still lying on a bench with a wet towel over my head.
"If it was only a few runs [which were required] I would have tried to get out there again, although I don't think Nimmo [Reid, Kent's director of physiotherapy] was too keen."
For a man who was born in Australia and who is used to hot climates, having played for the West Indies, Jamaica and Queensland, Nash believes it was a combination of factors which led to him retiring.
"It was quite hot on the first three days, we spent the first day and a half in the dirt [fielding] and I was coming back from a three-week lay-off," he said.
"The tenseness of the game probably added to fatigue levels as well. I was mentally shot but thankfully we got over the line.
"I was very close to going to hospital but after 20 minutes of rehydration and lying down in a dark corner I came back to being with it."