Jos Buttler: Somerset play down England wicketkeeper's future
Last updated on .From the section Cricket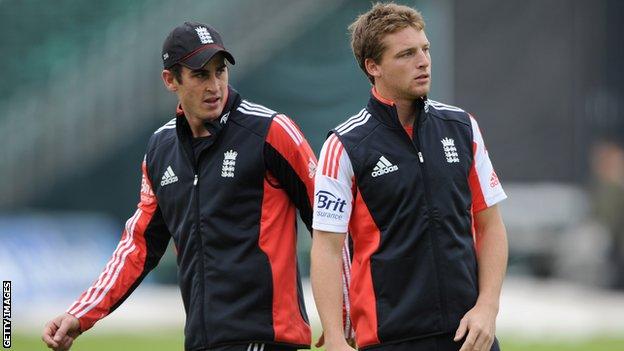 Somerset have played down speculation that England one-day wicketkeeper Jos Buttler is set to leave this winter.
Reports on Wednesday suggested that Somerset's decision to pick Kieswetter for FLt20 will see Buttler look for opportunities elsewhere.
But coach Andy Hurry told BBC Somerset: "I've not heard he's going. There's no speculation as far as I'm concerned."
Taunton-born Buttler is currently England's favoured limited-overs keeper, having replaced his county team-mate in the national team last winter.
And with Kieswetter, 25, ruled out at the start of the domestic season with a broken thumb, Somerset handed Buttler the gloves for the YB40, and he retained them for the opening two FLt20 victories over Gloucestershire and Northants.
However, Kieswetter was picked for the recent defeats by Glamorgan, Worcestershire and Northants and remains first-choice in the County Championship.
But Hurry believes this competition for places is healthy within the squad.
"Craig is doing a good job for us behind the sticks at the moment and we've got great competition for places there," he added.
"We'll just make sure we keep picking who is the best keeper at the time. It's a selection decision and it's our prerogative to decide."
Reports in the Western Daily Press suggested Buttler had been given "assurances" by Somerset that he would be keeping wicket in all one-day cricket.
The player is out of contract at the end of the season and the article went on to suggest Buttler is waiting to see how much time he spends behind the stumps this summer before deciding whether or not to sign the new deal that is on offer.
Somerset issued a statement in a direct response to the article, saying no assurances have been given to Buttler and dismissed claims he was informed on the day of the Glamorgan match, last Friday, that Kieswetter would be reinstated.
The statement continued: "Jos Buttler has been at Somerset all of his cricketing career and the club is doing all it can to persuade him that his interests are best served by remaining at the club."