Cornwall's 'Ian Botham' reflects on his triple century
By Phil Harlow
BBC South West Sport
Last updated on .From the section Cricket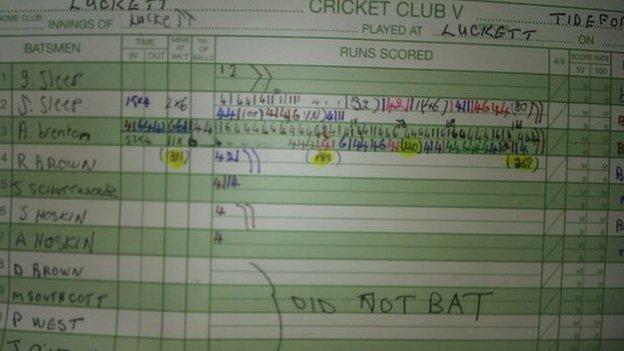 Playing for Luckett Cricket Club in Division Two East of the Cornwall Cricket Leagues does not ordinarily lead to interview requests, headlines on the BBC or offers of free gear from equipment manufacturers.
But batsman Andrew Brenton's display for Luckett against Tideford last weekend was no ordinary performance.
The 39-year-old's record-breaking innings - 311 runs scored off just 40 overs, including 53 boundaries and 11 sixes - has led to a flurry of publicity and interest, with the BBC Sport website story on his feat recording more than 200,000 page views from around the world since Tuesday.
"It's all been a bit mad," the understated Brenton told BBC South West Sport over a pint in the same pub in which the team drink after every home game.
"I've been getting texts from everyone and my son said he'd seen a story about it on a website in New Zealand.
"I haven't been too keen to make a big deal about it. But now I think about it, it will be nice to have the record for however long it stands and for my son to look at the stories about it all, and hopefully it will do something for Luckett as a club."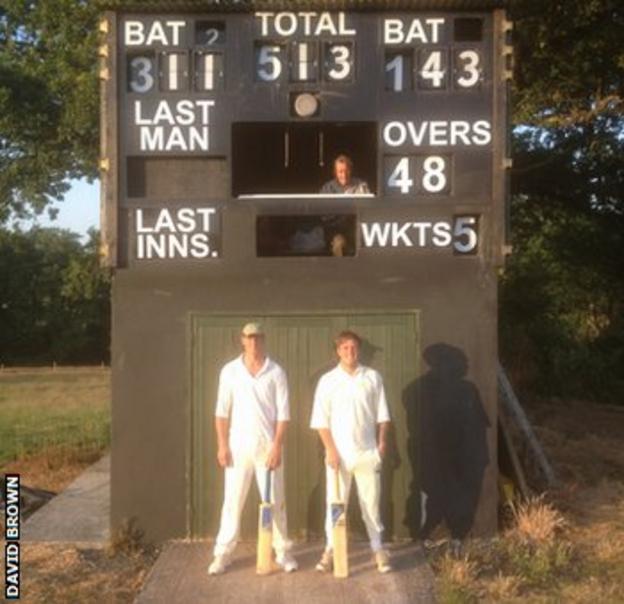 Reliving the innings that has made him - in his own words - "famous for 15 minutes", Brenton said he knew that the baking conditions meant a big total was potentially on the cards.
"It was just a perfect day to bat," he said.
"I was praying that we'd win the toss. Everyone knew it would be a hard day for the bowlers and the fielders."
Opener Gregg Sleep went for three in the fourth over, bringing Brenton to the crease at Chapel Field.
"He reckons he saw off the new ball to make things easier for me," said Brenton, whose previous best score was 140.
"I just wanted to stay in and play cricket shots. We get so used to playing on damp wickets so when you get a day like Saturday you just want to make the most of it. The ball was coming on and you could see it wasn't going to do a lot.
"I'd been getting annoyed this season. I kept getting to 50 or 60 and then getting out so when the boundaries started to come I was really on at myself to keep concentrating."
Nevertheless Brenton said he did give a few chances en route to the highest ever score in Cornish cricket, mainly towards the start and the end of the innings, but managed to survive.
"The banter was really good-natured - I was chatting with the wicketkeeper almost the whole innings," he said.
Luckett player David Brown had high praise for his long-time team-mate.
"He's our Ian Botham," said Brown.
"The younger lads at the club all look up to him. I don't think he realises how good he is - I've been telling him for 10 years!
"Guys at our level just aren't used to dealing with how hard he hits the ball."
Brenton has been fielding calls from journalists and radio stations, and even from equipment manufacturers to offer him a new helmet.
"It's not just about me - Jack Sleep did a fantastic job for his century and our partnership was a record too," said Brenton, who cites - perhaps unsurprisingly - Sir Viv Richards as his cricketing hero.
"And there's people there like Len Roberts, the president of the club who's about 80 but still does tireless work preparing the ground and everything, I think it's nice for people like him to see the club get all this attention."