Ashes 2013: TV umpires could overrule decisions - ICC chief
Last updated on .From the section Cricket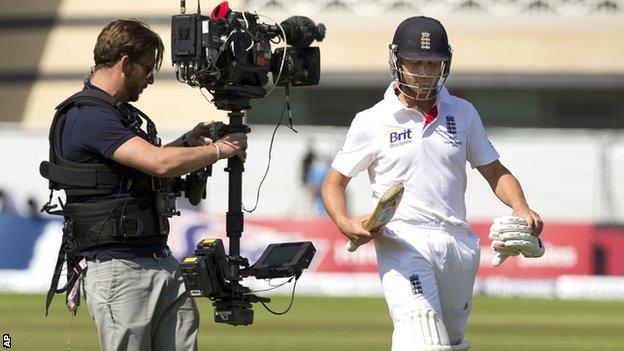 Television umpires may have a more prominent role in future on-field decisions, says International Cricket Council (ICC) chief David Richardson.
"We've got a trial to allow the third umpire a bank of TVs so he can access technology quicker," Richardson said.
He added that "down the line" third umpires "could overrule" errors.
"I think that's probably where it will end up long term but we're still quite a way from that at the moment. We need to progress a lot further before we can take it on board in a match," Richardson said.
Trott was initially given not out, but dismissed by third umpire Marais Erasmus when Australia used the Decision Review System (DRS), despite the key HotSpot camera angle being unavailable.
TV umpires rely on being sent pictures from television broadcasters when teams ask for a decision to be reviewed, or when on-field umpires call for a second opinion on run outs or stumpings.
Richardson, who said trials would take place during the third Test at Old Trafford next month, told the BBC's Test Match Special: "That's why it has to be so quick. We don't have to depend on whether they have gone for an ad break, we want to have our own replays, not what the television is showing."
The ICC chief executive added the use of neutral umpires, obligatory in Test matches since 2002, may also be reviewed.
Eight of the 12 umpires on the elite panel are from England or Australia and therefore cannot officiate in Ashes matches.
"The elite panel should be the best 12 no matter where they come from, but then people like Billy Bowden, who were on the elite panel, they haven't been relegated to the wilderness," Richardson said.
"He could argue he's number 13, it's these guys who are still in line and could still be appointed if necessary.
"Whether we need to re-debate the whole neutral umpires point again, perhaps with DRS maybe the need to have neutral umpires is not as it used to be.
"I don't think umpires ever cheated but the perception of them cheating was the problem."