Ashes 2013: Ian Bell shines for England with Lord's century

By Tom Fordyce
Chief sports writer
Last updated on .From the section Cricket50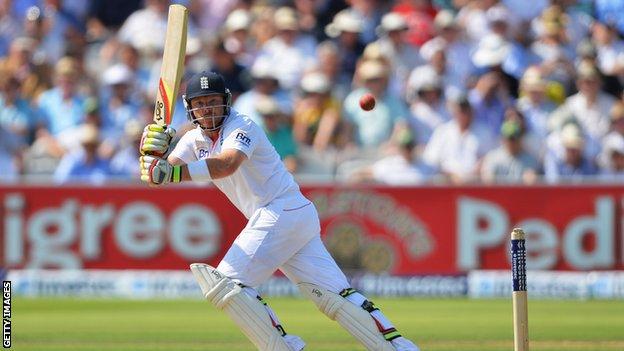 On days like Thursday, Lord's can look like a perfectly dressed film set, augmented by CGI to an extravagant degree.
It affects its players in different ways. Some are inspired by cricket's greatest stage, others intimidated by both the unique conditions they encounter and their own expectations, built up over many years of distant homage.
Ian Bell was once one of those overwhelmed by it all. On his Ashes debut here eight long summers ago he scored six in one innings and eight in the next, a scratchy, nervous presence at the periphery as two of Australia's greatest bowlers basked in the limelight.
At the start of this series you would still have got long odds on him being a dominant performer, let alone the batsman with the most runs and most significant influence on the balance of power. Now, after becoming only the fourth Englishman in history to score a century in three consecutive Ashes Tests, we may have to reconsider.
On a blistering July day Bell was the coolest man in the ground, as serene at the centre of it all as he had once been flustered. In helping to steer a struggling England towards 300, having jogged to the crease when three prime wickets had fallen in 11 balls with the score not yet past 30, he pulled off a rescue act just as critical as his second-innings 109 had been at Trent Bridge five days before.
This was a day when Lord's appeared fully dressed from another, older era: egg and bacon ties and linen suits, champagne picnics in the Coronation Gardens, panama hats and parasols. Even the Queen came to bless proceedings, stepping onto the outfield at an angle that suggested she intended to come in round the wicket.
Bell batted from the same script. There is something old-fashioned about his strokeplay when he is in this sort of form, an elegant calm entirely removed from the harum-scarum of Twenty20.
At no point in more than five hours at the crease did he appear remotely hurried in his accumulation nor troubled by Australia's inexperienced attack. His timing, both in the pace of his innings and placement of bat onto ball, was near perfect - a run every two balls, the sober application decorated with the full set of his signature classics: delicate glides down to third man, pops away off the back foot, dreamy drives square of the wicket.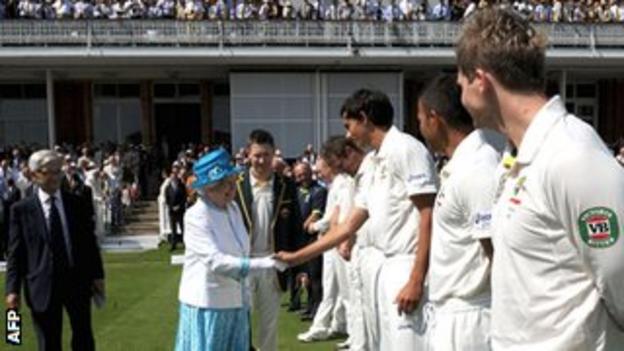 In harness with Jonny Bairstow, he added 144 for the fifth wicket, his young Yorkshire partner another to flourish on this lush turf. Three of Bairstow's four Test half centuries have come at this ground.
Conditions were far more agreeable for Bell than they had been back in 2005. Then, he faced Glenn McGrath and Shane Warne in their pomp; here he faced a bowling attack entirely unaccustomed to Test match cricket at headquarters.
At times it showed. James Pattinson, a Lord's Test debutant, struggled to cope with the ground's demands, going for 67 runs from his first 14 overs, straying down the famous slope, going too wide the other way when he tried to adjust.
His captain, Michael Clarke, attempted to ease him in, trying him from both Pavilion and Nursery Ends, using him in concentrated bursts of two and three overs. It seemed to disrupt any rhythm as much as establish it.
Australia will forgive Clarke. His captaincy has already won plenty of plaudits. Faced with an opening act that could have unsettled other leaders - a lost toss on a lovely batting track, untroubled blue skies up above - he passed his own Lord's examination in some style.
In bringing Shane Watson on after just four overs in the morning, he bagged the prize scalp of his opposite number Alastair Cook. Then, in the shadow-strewn evening light, with England having added almost 250 for the loss of just Jonathan Trott after that early collapse, he brought Steve Smith into play and turned the day around once again.
Smith came into this series as a man who held no fear for the home support, memories of his long hops and short innings in the corresponding series down under two winters ago masking the significant improvements he has made since then.
Yet with his part-time leg-spin he seized the moment just as his full-time fast-bowling team-mate had failed to do. England have some history with blond, tousle-haired Australian leggies ripping holes in their batting. But for Smith to do what Warne used to is an unexpected twist even for this unpredictable series.
Together with three wickets in 20 parsimonious overs from another impressive debutant, Ryan Harris, it left England - 271-4 before Bell nicked Smith to slip - 289-7 at stumps, and at a disadvantage despite the bonanza the toss should have brought.
Australia's record at Lord's reflects what it means for those brought up thousands of miles away to play at the spiritual home of their sport.
Generations have raised their games to such an extent that they have lost here in Ashes Tests only twice since 1900. Had Bairstow not been reprieved by a no-ball when he was bowled for 21 on his way to 67, they would be in even better shape this time around.
England, thanks to Bell, remain alive.
Chris Broad, Walter Hammond and Jack Hobbs are the other three with consecutive Ashes tons. If that provides illustrious company, Bell has now also drawn level with Len Hutton on 19 Test centuries.
Finally, 90 Tests and 31 years in, he may be fulfilling the promise that made Australia great Rod Marsh once declare him the most talented young English cricketer he had ever seen.