Ashes 2013: Michael Clarke captaincy inspired Australia

By Jonathan Agnew
BBC cricket correspondent
Last updated on .From the section Cricket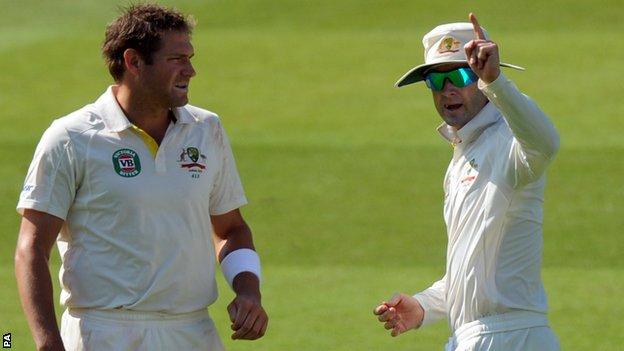 The opening stages of the second Ashes Test at Lord's were reminiscent of the first at Trent Bridge, with England's batsmen appearing jittery after a prolonged build-up.
At Trent Bridge, England's false start followed lots of pre-series razzmatazz, with Lesley Garrett singing the national anthems and a fly-past from the Red Arrows.
At Lord's, both teams were lined up for a long time waiting for the Queen to arrive. There was a massive sense of anticipation and atmosphere in the ground before the start of play.
It is not your typical way to prepare for a Test-match innings, and it was perhaps unsurprising that England lost three wickets in quick succession so early in the day.
It was the ideal start for Australia as they looked to rebound from the disappointment of their 14-run defeat in Nottingham, and it showcased the innovative captaincy of Michael Clarke.
The Australia skipper simply does not allow anyone to settle and never seems to follow a set formula.
Therefore, when James Pattinson was struggling with the Lord's slope, Clarke took him off after two overs and brought on Shane Watson for a single over in which he claimed the wicket of the England captain Alastair Cook.
After an England fightback inspired by Ian Bell's second century of the series, Clarke excelled again late in the day when he turned to Steve Smith's leg-spin just before the new ball was due.
Smith bowled a full toss that was smacked for four by Bell but his next one landed perfectly, just turned enough and caught the outside edge of the England centurion's bat.
Clarke then made another key call when he delayed the second new ball and gave Smith another over and was rewarded when Jonny Bairstow played a horrible shot to a low full toss and was caught by the bowler.
When Matt Prior then top-edged a cut to wicketkeeper Brad Haddin, Smith had three wickets and the day had swung dramatically in favour of the tourists.
As a captain, Clarke is never afraid to trust his instincts and try something different.
A lot of captains would have deemed Smith to have done his job when he removed Bell, and would have greeted the new batsman with the new ball. But Clarke's intuition told him to stick with the spinner and his decision bore spectacular results.
It is the sort of proactive captaincy you expect to see in Test cricket and it put his team in a strong position after Bell's century appeared to be turning things England's way.
The Warwickshire man deserves enormous credit for his second rescue act in successive innings.
There is a bit more pace in this pitch than there was at Trent Bridge, meaning he did not have to do so much waiting and dabbing. Instead, he drove several boundaries on both sides of the wicket to become the fourth Englishman after Jack Hobbs, Wally Hammond and Chris Broad to score hundreds in three successive Ashes Tests.
Bell put on 144 in a fifth-wicket partnership with Bairstow, who enjoyed a huge stroke of luck when he was bowled off a Peter Siddle no-ball for 21.
The would-be dismissal exposed a fairly basic flaw in Bairstow's game which is causing him to be bowled far too often.
When he gets his elbow up and plays straight through mid-off and mid-on he looks terrific, but when he plants his front foot and tries to whip it across the line through mid-wicket it gives the bowler too much of a chance.
The first day of an Ashes Test at Lord's is always a special occasion and this was no exception. Spectators ate, drank and made merry in the blazing sunshine, while in the corporate boxes celebrities such as Lily Allen, Russell Crowe and Hugh Jackman all had a wonderful time.
Fortunately, the action in the middle lived up to the billing as Australia shaded another hard-fought day of cricket by taking three wickets before the close.