Ashes 2013: Australia collapse among their worst in history

By Tom Fordyce
Chief sports writer
Last updated on .From the section Cricket102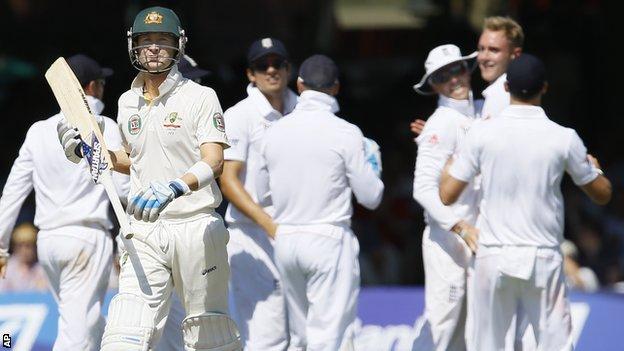 It started wonderfully for Australia: an England wicket with the very first delivery of the day.
This Australia team have endured some lean times in the past few years. But Friday afternoon, given the occasion, the venue and the rivalry, must rank as one of their blackest cricketing sessions in long memory.
Between 13:50 and 15:03 BST, five big wickets went down. Before tea, a sixth followed, all for just 46 runs.
Those bare bones, however, tell only a partial tale. On a pitch offering almost nothing to the pace bowlers, under blue skies, this was Ashes suicide: a bewildering succession of howling reviews, dismal shots and reckless running, a rogue's gallery of mugs' shots.
In those two hours, any realistic hope Australia had of winning this series went up in thick smoke. With a tragi-comic parade of incompetence they ceded an astonishing first-innings deficit of 233, having had England 289-7 overnight and then 313-9 early in the day.
By stumps, England had wobbled themselves, losing three wickets for just 31 runs. This match should still go only one way.
If Australia's demise brought back memories of England's dramatic capitulation at Adelaide 2006, when another potentially match-winning position was tossed away to relinquish the old urn, there was something new and startling in almost every dismissal.
Shane Watson, plumb lbw as he so often is, tossed away a precious review with no thought for cricketing logic or team-mates. Fellow opener Chris Rogers, with perhaps the worst shot to the worst ball professional cricket will see this year, was given lbw after missing Graeme Swann's slow, looping full toss. Even the decision was a stinker; the ball was missing a second leg stump.
That should have been enough ineptitude for any afternoon. Instead it was just the start.
Phil Hughes chased a wide one like a puppy going after a crisp packet, got an audible edge and decided to burn up the remaining review. Usman Khawaja, in his first Test innings since his recall, decided the cleverest course of action was to attempt to slog Swann into Neasden, and instead barely made it to mid-off.
Michael Clarke at least fell to a decent delivery, pinned lbw in front of leg stump. But Ashton Agar's run-out? No wonder the travelling support looked both mystified and miserable. This was Lord's, against England, on a balmy summer's day. It was supposed to be a celebration. Instead it became a funeral procession.
It was Australia's lowest score in a Lord's Test since 1968, the ground where they have only lost Tests to England twice in more than 100 years.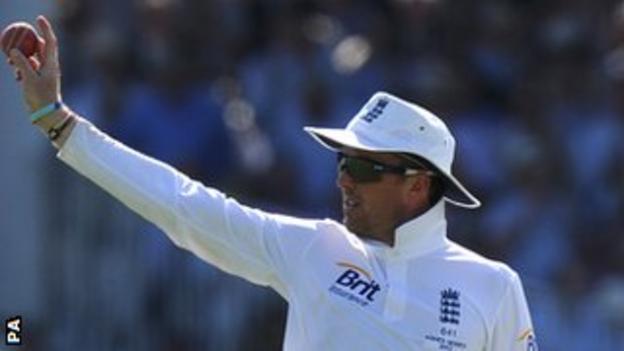 It also casts a different light on what first appeared a credible performance in the preceding Test. Those two last-wicket stands of 163 and 65 at Trent Bridge may have been as much smokescreen as fight-back. Their first-innings 117-9 does not lie. Neither does 231-9 in the second.
Can they recover, if not in this match then in the three Tests that remain? Recent precedent suggests the pattern is set. This Australia team have been folding like napkins with a regularity that must frighten their batting titans of old.
In their last 10 Tests they have lost six wickets for 45, against South Africa in Perth; been reduced to 137-7 by India in Chennai; lost six wickets for 20 runs in Hyderabad; been 143-8 in Mohali and 94-7 in Delhi.
New coach Darren Lehmann has been working hard to establish a more chipper mood in the Australian camp. News conferences have been full of smiles and sunny optimism. He has even insisted that one player a day tells a joke in the team's daily huddle.
It is all valiant stuff. It is also powerless in the face of such stark on-field failings.
For England supporters in the 29,000-strong crowd, there were curiously mixed emotions. After years of watching their side fall apart in hapless fashion to a demonstrably superior side, they are now watching the roles being reversed. Australia have become England. England have become Australia.
There is clearly considerable satisfaction to be taken. Equally, as Australia batsmen trudged back to the pavilion in shoulder-slumped succession, there was not quite the mayhem one might have expected.
When England were dominating the last series down under, former England captain Alec Stewart - amazed that any Englishman might not be relishing every second - gave us lily-livered romantics a speech to the effect that you should never take your foot off a snake's neck. Never let up. Grind them into the dust, just as they did to us.
Not everyone at Lord's appeared to agree. Raised on gallows humour, accustomed to playing the underdog, there was a tangible disappointment that it was not quite as tight as an Ashes contest should be, the sense that beating this Australian team of current vintage does not trigger the same unfettered joy that came with the toppling of Ricky Ponting, Glenn McGrath and Shane Warne eight years ago.
To old pros like Stewart this is patent nonsense, the equivalent of punching the playground bully in the face and then asking him if he is alright. England fans may also get used to it, and grow to relish it just as Australians did in those long barren years from 1989 to 2005.
Perhaps those three late England wickets were a warning from history. Never lift your foot. Never let the snake wriggle free.
Perhaps not. The lead is still 264. England have seven wickets in hand. The pitch, which turned enough to make Swann the first home spinner since Hedley Verity in 1934 to take five wickets in an Ashes Test innings at Lord's, will turn even more by Sunday. The weather has seldom been set so fair.
By Monday, it should be 2-0, and the Ashes virtually safe.