Glamorgan's Jim Allenby a target for a 'couple of clubs'
Last updated on .From the section Cricket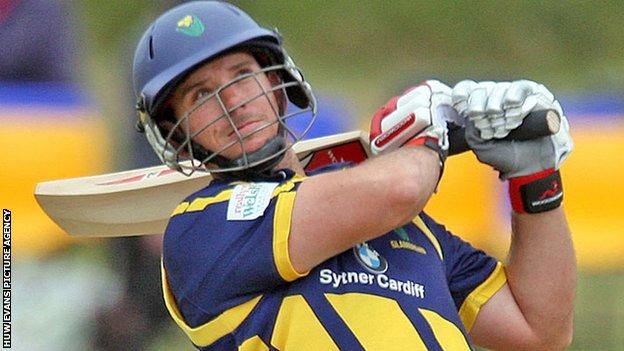 Jim Allenby has revealed a "couple of clubs" have approached Glamorgan for permission to talk to him about joining them.
Australians all-rounder Allenby is the Welsh county's top scorer in County Championship matches this season and averages more than 40 in 20-over games.
However, he said he is still committed to Glamorgan.
"I desperately want to stay here, but like every player you're ambitious to win stuff," he said.
Allenby top-scored with 69 for Glamorgan as they crashed to a 64-run defeat against Somerset.
It was Glamorgan's second successive defeat in the Friends Life t20 after they won their four opening games in the tournament.
It leaves them lying second in the table with four matches left to play.
Allenby says those matches remain his focus in spite of the interest from other counties.
"There's talks ongoing and there's a couple of clubs that have put notice in to speak to me and that's very humbling," he said.
"This competition is big for me personally and I know it's huge for the club, so that's my number one focus and the rest will be sorted out by others I'm sure.
"Like every player I just want to see progress, we want to see clear direction in which way the club's going and I'm sure the fans do.
"I'm certainly not the only one when we get a clear direction and a clear path to where we are going and a continued improvement, then that makes the decision for you really."