Ashes 2013: Glenn McGrath criticises Australia batting at Lord's

By Tom Fordyce
Chief sports writer at Lord's
Last updated on .From the section Cricket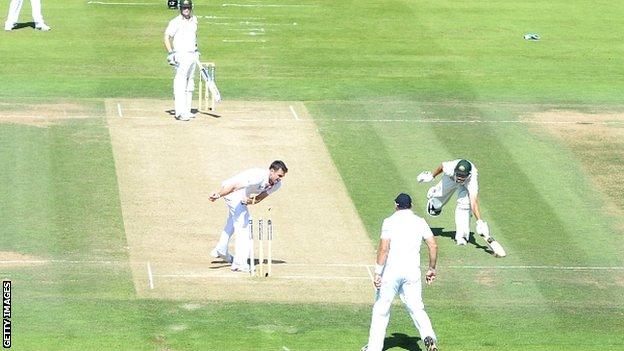 Australia great Glenn McGrath expressed his dismay after the Ashes hopes of the current side were battered by another dramatic batting collapse.
The visitors were bowled out for 128 on as England took a 233-run first-innings advantage.
England were reduced to 31-3 in their second innings but, with a lead of 264, will be confident of a 2-0 series lead.
McGrath said: "It was a very poor, very disappointing scorecard. I'm not sure where Australia can go from here."
Australia collapsed from 42-0, much of the damage done during a calamitous afternoon session that saw six wickets fall as their top order were guilty of poor shots and dreadful use of the decision review system.
Graeme Swann took five wickets and, with the pitch showing more turn with every passing hour, will be confident of doing further damage whatever total Australia are finally set.
"It was more the disappointing way it unfolded on a very good batting wicket," McGrath, who took 563 Test wickets, told BBC Test Match Special.
"Sure, there was a bit of spin, but not to this extent. They have to come out and show a bit of pride and bowl their hearts out."
Former England skipper Michael Vaughan, who won the Ashes in 2005, believes Friday's flurry of wickets may have been the pivotal play in this five-match series.
He told TMS: "England know they have the attack to bowl Australia out on any surface. What Australia have done here is play so badly that any positivity they have gained from Trent Bridge has disappeared.
"It is back to square one now. The performance on Friday was the performance of the team we thought they were going to be two or three weeks ago before (new coach) Darren Lehmann took over."
Yet Lehmann insists his side still have a chance.
"It's a good wicket so it's disappointing how we performed with the bat," he admitted. "But it's a great fightback with the ball.
"We have to fight pretty hard on Saturday morning, try to bowl them out cheaply and then bat for 150 overs because this is a good track.
"The players might be a little low on confidence but they know what to do. They have to trust their plans. If we can win all three sessions we are back in the game."
Swann was the chief beneficiary of Australia's inept batting, trapping opener Chris Rogers lbw with a high full toss.
He said: "It was quite simply the worst ball I've ever bowled; it slipped out of my hand. I can't even watch it so the less we see of it the better.
"It was truly awful cricket. I was a bit embarrassed but I'm sure Chris Rogers was even more embarrassed.
"Bowling Australia out for 130 - we would have bitten anyone's hand off if offered that.
"The plans for us will be to score as many as possible tomorrow and then have two days' bowling on a dry pitch."