Ashes 2013: Australia suffer from poor use of DRS

By Jonathan Agnew
BBC cricket correspondent
Last updated on .From the section Cricket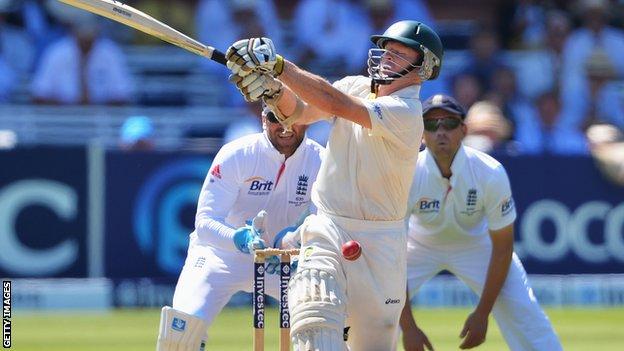 On the day when Australia's hopes of winning the Ashes suffered a potentially fatal blow, the tourists' catastrophic use of the Decision Review System was once again central to their demise.
Their batsmen played a raft of injudicious shots as they were bowled out for 128 in reply to England's 361 on the second day of the second Test at Lord's.
But they were also hampered by some ridiculous referrals that made you wonder if they learned anything from their 14-run defeat at Trent Bridge.
In that match, wasted reviews meant they were powerless to overturn Aleem Dar's decision not to give Stuart Broad out for an edge to slip and ensured they went into the final day without a single referral remaining.
In the aftermath, they must have talked about DRS and discussed the importance of taking the emotion out of being dismissed before deciding whether you really want to risk one of your two precious referrals.
And yet here was Shane Watson, trapped lbw playing across his pad as he so often is, frivolously throwing away a review in a desperate attempt to stay at the crease.
Then came Chris Rogers, given out lbw to a Graeme Swann full toss in a poor umpiring decision by Marais Erasmus, but opting not to risk his team's remaining review to potentially overturn the call.
Phil Hughes had no such reservations. Caught behind after throwing the bat at a wide one from Bresnan, he used up his team's final referral despite surely knowing that he had nicked on the ball.
It all makes you wonder what is going through the players' minds and whether in the desire to preserve their own wickets, they are allowing a touch of selfishness to cloud their thinking.
The hosts' baffling lack of discipline with regard to DRS also translated into their shot selection on a slow, gentle pitch that offered moments of sharp turn but held no great demons.
Usman Khawaja was a case in point. For a number three to get out trying to loft a spinner over the top so early in his innings beggars belief.
You have to get your head down at number three and battle as hard as you can, but he succumbed to a shot that is high-risk in any circumstances.
England bowled pretty well on a dry pitch which suited their capacity to generate spin and reverse swing, with Bresnan justifying his recall.
However, Australia's dismal batting display suggests they still haven't quite recovered from the pain of coming so close to a famous victory at Trent Bridge.
I said at the time that sometimes a narrow defeat is harder to take than a more comprehensive one and Australia have played as if they still haven't shaken the first Test from their system.
The tourists do deserve credit for the way they finished the day, taking three quick England wickets to give themselves a glimmer of hope.
But the home side will know that if they come back tomorrow and show a bit more application with the bat, they should be able to set themselves up for a victory that would put them 2-0 up in the series.
For England supporters, it is a dream scenario, but for those who want to see a proper contest for the Ashes this is the worst possible outcome.
I always felt that conditions at Trent Bridge and Lord's would offer Australia their best hopes of victory, and that the dry, grassless pitches at Old Trafford, Durham and The Oval would play into England's hands.
But after today's Australian implosion, a 5-0 whitewash is by no means out of the question.