Ashes 2013: Joe Root will flourish for years to come - Agnew

By Jonathan Agnew
BBC cricket correspondent
Last updated on .From the section Cricket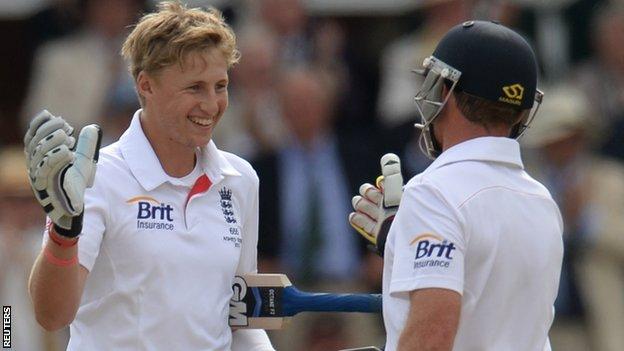 People talk about luck in sport. Joe Root certainly had that when, on just eight on Friday evening, he edged straight between wicketkeeper and first slip.
It rather sums Root up. He looks angelic, but he is as hard as nails and as competitive as anyone in the side.
In becoming the youngest Englishman to score an Ashes century at Lord's, he made Australia pay for just one of the many errors they have made in this increasingly one-sided series.
The way Root bats, he will score stacks of runs against both this demoralised opposition and other bowling attacks he comes up against in the forthcoming years.
I love his style at the crease. He plays with a very straight bat, consolidates when he has to and accelerates when he can. There is little flamboyance about him but a huge amount to admire.
The joy of the scenario at Lord's this Saturday was that he was never rushed. With England's lead already past 260 when play began, there were no time pressures on him. He could play himself in against some accurate, testing bowling in the morning session and then pick up the pace when the field spread and the bowlers tired.
In terms of the issue of whether he should be opening the batting, he has nailed that one for a long, long time. You could argue that it turned on a very fine margin. Had he gone in single figures, perhaps we would all be asking if he had been moved up from five too soon.
But that is what international sport is about. You seize the moment. You ram it home.
Injuries permitting, this England opening partnership of Root and Alastair Cook could be together for five, six, seven years.
They have youth, they have talent, they have the application. Form can always change, of course, and players hit slumps. But this England set-up sticks with its good players. It does not drop them after a few bad innings, as regimes of the past once did.
It is brilliant for the team. Successfully integrating new young players into established teams is a difficult thing. The great Australia team of the past decade could not manage to do it, which is one of the reasons the current incarnation is struggling so much today.
With their openers, England seem to have done that, just as they did when Andrew Strauss joined Marcus Trescothick, and then when Strauss was joined by Cook.
Great teams are founded on great opening pairs. At the moment, all that is for the future. This England team is not yet a great one; they are a very good team playing well, and they still have some issues to deal with.
One of those, for me, is Jonny Bairstow. I'm not convinced he has dealt with his technical flaws. In the first innings here he again looked to me far from entirely convincing.
England will be able to persevere with him because they are beating Australia, and beating them so comfortably. There is no pressure on them to make changes. They can afford to give Bairstow the chance to play a similar innings to Root did here.
The team with all the issues are the tourists. And one of those is the form of young left-arm spinner Ashton Agar.
As well as he batted in that first innings at Trent Bridge, and for all the romance of his back-story - 19 years old, plucked from a spell playing with Henley CC - he is in this team to bowl, and at the moment he is not good enough.
It was summed up for me when Root was on 99. Skipper Michael Clarke brought his field up to cut off the single and apply pressure; Agar instead served up a wide long hop, and Root was able to thump it away for the easiest of fours.
England were able to bat on, and on, and on. I wasn't surprised that they didn't declare before the close, even with the lead well past 500.
Australia won't score 500 here. But England batted on to put more wear in the pitch, to rub more salt in raw wounds, and because they have two full days in good weather to bowl them out.
I expect Cook to captain positively in the field. And I expect England, at some point in the next 48 hours, to go 2-0 up.