Mickey Arthur worried about 'deliberate campaign' against him
Last updated on .From the section Cricket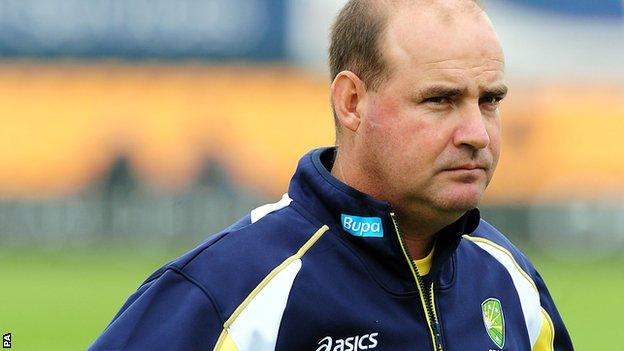 Former Australia coach Mickey Arthur has suggested there is a "deliberate campaign" against him as he pursues legal action over his dismissal.
"I am told that David Warner's conduct was the last straw," said Arthur.
"I received no hearing at all over that issue, and no-one was doing more to improve discipline in this young Australian cricket team than I was."
The South African added in a statement: "In spite of what has been a deliberate campaign against me in the past days, I am still willing to resolve this dispute on a fair and just basis."
Cricket Australia said it disputes "a number" of Arthur's claims.
A statement read: "We will not be articulating these disputes publicly, except to say that we are confident in our legal position, are comfortable with the level of support provided to Mickey, and look forward to resolving this matter in an appropriate manner."
Opening batsman Warner was suspended until the first Ashes Test and fined £7,000 (A$11,500) for punching England's Joe Root in a bar following Australia's defeat by England in the Champions Trophy.
Arthur took over as Australia coach in November 2011, but the latter stages of his tenure were affected by problems on and off the field.
In March 2013, four players - vice-captain Shane Watson, Mitchell Johnson, James Pattinson and Usman Khawaja - were dropped for the third Test of the tour to India for failing to submit presentations on team strategy.
All-rounder Watson returned to captain the side for the fourth Test in place of the injured Michael Clarke, but defeat in Delhi saw Australia lose the series 4-0.
In May, Warner, who is now touring Zimbabwe with Australia A, was fined £3,700 (A$5,750) for posting abusive comments to journalists on his Twitter account just weeks before his late-night altercation with Root.
Arthur said he was shocked by his dismissal as coach and revealed his disappointment about the fact that court documents - which suggested a rift between Clarke and Watson - had been leaked.
"I was truly shocked and devastated by my dismissal," he said. "I had received a positive appraisal on all my key performance indicators just prior to departing for the Champions Trophy.
"It's very unfortunate that my private dispute with Cricket Australia was made public by others.
"Due to the sensitive matters involved, I have taken extensive steps in co-operation with the Fair Workers Commission to keep my case entirely confidential.
"Selective leaks by others have ruined my attempts to protect the Australian cricket team and everyone involved."
Arthur is seeking £2.4m compensation from Cricket Australia or reinstatement as national coach.
"The damage to my reputation and career has been immense, which means the chances of me getting a senior job are that much less," he added.
"To conclude, I just want to wish the Australian cricket team the best of luck and hope they can bounce back after a disappointing day [on Saturday] and still bring the Ashes home."