Ashes 2013: Are Australia set for years as underdogs?

By Tom Fordyce
Chief sports writer
Last updated on .From the section Cricket334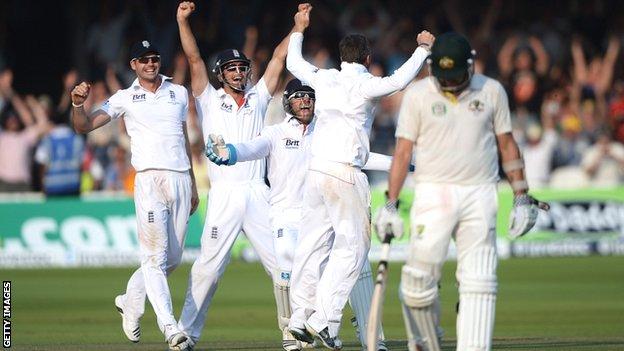 What a difference a week makes.
With it surely comes the series, and a supremacy that could stretch on and on.
For the England supporters who celebrated amid the long shadows and Sunday evening sunshine at Lord's, these are heady days and improbable numbers.
Not since 1890 have England won the first two Tests of a home Ashes series. They have never before won an Ashes Test by so many runs in this country, and only once by more overseas. To do it at the spiritual home of the game, where Australia had only lost twice in more than a century, makes it dreamier still.
Towards the end of the innings thrashing in Melbourne in the previous Ashes series, some England fans amused themselves by taunting the opposition with a variation of an old football chant. These days, asking "Are you [bottom-ranked Test side] Bangladesh in disguise?" is arguably more insulting to Bangladesh than Australia.
Seven days ago, Australia were within a few Brad Haddin boundaries of going one up in this series. How long ago that now seems. If nails were bitten then, they are being hammered into the coffin now.
Only once have they come from 2-0 down to win an Ashes series, almost 80 years ago. On that occasion they had Don Bradman on their side. Now they have batsmen in their side who are barely as good as 1980s Essex journeyman Don Topley. Back then, they were also playing timeless Tests. Now they can't even get to five days.
There is another sporting song that is often used after such thrashings. The bad news for Australia is that England are already playing them almost every week.
Five-nil in this series is now a genuine possibility rather than provocation. Even if logic would suggest the odds are still against such record-breaking revenge, the gap between the two sides has been so pronounced that you wonder how much damage has also been done for the upcoming series down under.
Australia have problems with players in the team. They have problems with players not in the team. Their new coach can't improve them. Their old coach is suing them.
Wherever you look there are flaws, fault-lines and failures.
Young spinner Ashton Agar, having returned match figures on a turning pitch here of 0-142 and 2-248 in the series as a whole, has offered his captain neither control nor impact. The man he replaced, Nathan Lyon, is short of bowling and even shorter of confidence, having been given the heave-ho in favour of a 19-year-old kid who had been turning out for Henley Cricket Club.
At the top of the order, Shane Watson is no longer so much a candidate for lbw as sworn in as president. For the third time in this series he was caught bang in front on Sunday; more than half his dismissals in Ashes Tests have now come this way. His opening partner Chris Rogers looks what he is - a decent second division county player who had to wait until he was 35 for his second Test for good reason.
Australia have now gone 10 Tests without a batsman in the top three making a century. To put the slump in further context, the last time that happened was between 1899 and 1902.
Phil Hughes, at four, has the stickability of rain on slate. Steve Smith, at six, is at least a place too high.
At this point you expect a team to turn to the next cab in line. Except gone are the days when Australia had batsmen of the quality of Michael Bevan and Stuart Law waiting patiently on the rank for a chance.
Simon Katich has been scoring runs in county cricket. But he is 37 and has been told by the chairman of selectors that he will never be picked again. Twice. Ricky Ponting? Ricky Ponting is retired. Australia might as well wish for Warnie and McGrath too.
The only man in the touring squad with credentials is David Warner, a player more suited to demolition derbies than taxi duties. But having failed to knock Joe Root out of the series with his nightclub haymaker last month, he has now also failed to score any runs on his rehab/exile in Zimbabwe.
On Sunday he was forced to issue a statement through Cricket Australia apologising for offensive tweets sent by his brother Steven, which not only cursed Watson but managed to create an entirely new sporting creature, the "escape goat". Cricket Australia might have complained, but it was too busy apologising for their own inadvertent offensive tweet the previous day. To call it chaos would be kind.
Even in England's negatives the home side can find positives. They are 2-0 up and running away with it despite four of their most reliable batsman being yet to make a substantial score between them,
Captain Alastair Cook has a series aggregate of 83, Kevin Pietersen 85. Jonathan Trott is averaging just 26, Matt Prior, their player of the year, a mere 13.
Pietersen's likely absence from the third Test is therefore hardly the blow it could once have been. The other three will surely improve. It's enough to scare Australian children to sleep.
Their bowling attack too leaves London in better shape than it left Nottingham. Tim Bresnan's accuracy and economy were an improvement on Steven Finn; Graeme Swann will continue to be given turning tracks and carry on making maximum use of them. While Agar has taken a wicket every 252 balls, at an average of 124, Swann has struck every 50 for 22.
English teams and supporters are unaccustomed to acting as favourites, as top dogs rather than underdogs.
They might have to get used to it.