Ashes 2013: Australia need quality spinner to test England

By Jonathan Agnew
BBC cricket correspondent
Last updated on .From the section Cricket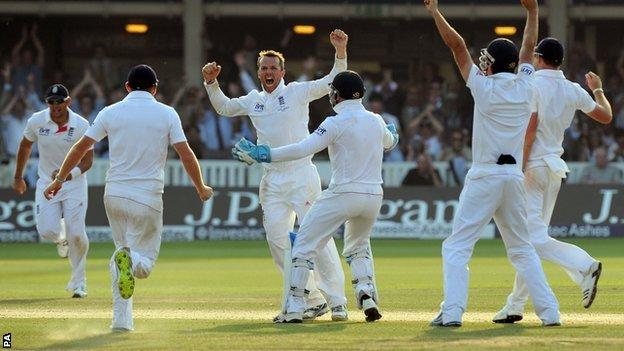 If Australia are to have any chance of clawing their way back from 2-0 down in this one-sided Ashes series they must find a wicket-taking spinner.
The pitches for the final three Tests at Old Trafford, Durham and The Oval will be just as dry as the ones at Trent Bridge and Lord's so Australia simply cannot keep on going as they are.
It always seems to be the case that bowlers get blamed for the failings of the batsmen, but they are simply being outgunned by England, with the difference in quality between the spin bowlers particularly striking.
While Graeme Swann's figures for the series are currently 13-287 at a strike rate of 53, young Ashton Agar has managed 2-248 and takes a wicket every 252 balls.
Swann asks a question with every ball and is very difficult to get away for runs, whereas Agar has been inconsistent and unable to exert any control over England's batsmen.
Agar is very young and his time will come, but you simply cannot afford to carry a spinner in a side as poor as this.
Given the 19-year-old's struggles, I feel Australia must now call up Pakistan-born leg-spinner Fawad Ahmed from the A tour in Zimbabwe.
When Mickey Arthur was still coach he was asked whether he thought Ahmed would play a part in the Ashes, and he replied in the affirmative, so Ahmed is clearly part of their plans.
He has played one game in Harare, and came away with eight wickets, which suggests he is in decent form.
Steve Smith's three wickets in the first innings at Lord's exposed England's long-standing weakness against wrist spin and, while it is impossible to predict how Ahmed will fare in the Ashes, it is a gamble Australia are going to have to take.
They may even consider playing both Ahmed and off-spinner Nathan Lyon, who has been Australia's most successful Test spinner since Shane Warne.
Something simply has to change because this is getting serious for Australia. The worry for the tourists is not just this Ashes series but also the return one down under. They must try to think of strategies that can knock England off their stride.
When it comes to this winter's series, I would not be surprised if they choose to produce juicy green-tops and try to unsettle England with their pace attack. They simply won't beat them by playing any other way.
I certainly don't feel sorry for Australia - not for a minute. These things happen and I have seen England suffer more than enough over the years and experienced the agonising that goes on when you try to work out how to put it right.
But England have put it right. They have modelled their academy on the Australian system, brought in central contracts to tie down their best players and invested heavily in coaching.
The boot is now firmly on the other foot. Australia are the team in need of an overhaul - and it may be some time before they reap the rewards.