Jack Taylor: Gloucestershire's suspended bowler remains out
Last updated on .From the section Cricket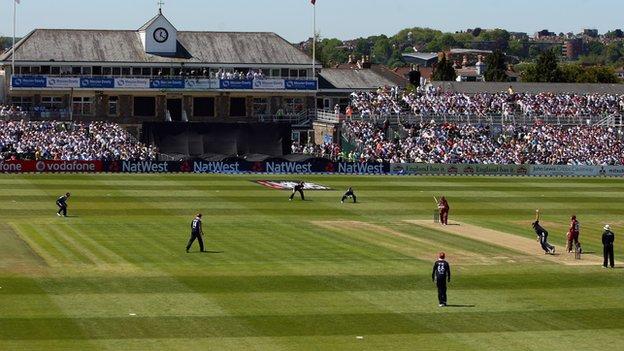 Suspended Gloucestershire off-spinner Jack Taylor will not bowl for the first team again this season.
The 21-year-old is allowed to bat but, as a lower-order batsman, is unlikely to be drafted in from the second XI.
"Jack is progressing very well," director of cricket John Bracewell told BBC Gloucestershire.
"Gloucestershire University tested him last week and he came through that with a pass. We now need to make sure there's scrutiny under pressure.
"But we're in no hurry and the real view is he won't be playing first-class cricket this year as a bowler."
Prior to his suspension, Taylor, who averages 26.52 with the bat in first-class cricket, played four Division Two games this season, taking six wickets and scoring 178 runs.
Since then he has made 248 runs in nine innings for Gloucestershire's seconds.
But Bracewell added: "People going in ahead of him are getting more runs so it's a competitive field. Our second 11 has been going extremely well this season."
Meanwhile, Gloucestershire captain Michael Klinger was quick to praise Taylor for the way he has handled his suspension.
"It's been tough but the thing in his favour is that he's got such a fantastic attitude," he said.
"He's certainly someone who can cope with the situation well and he's shown that he has, not only when he's played and trained but in the surrounding group.
"He's always upbeat so there's no doubt that once he does get it right he'll be pushing his way back into the team."