Luke Gallichan leads Jersey to ICC win over Kuwait
Last updated on .From the section Cricket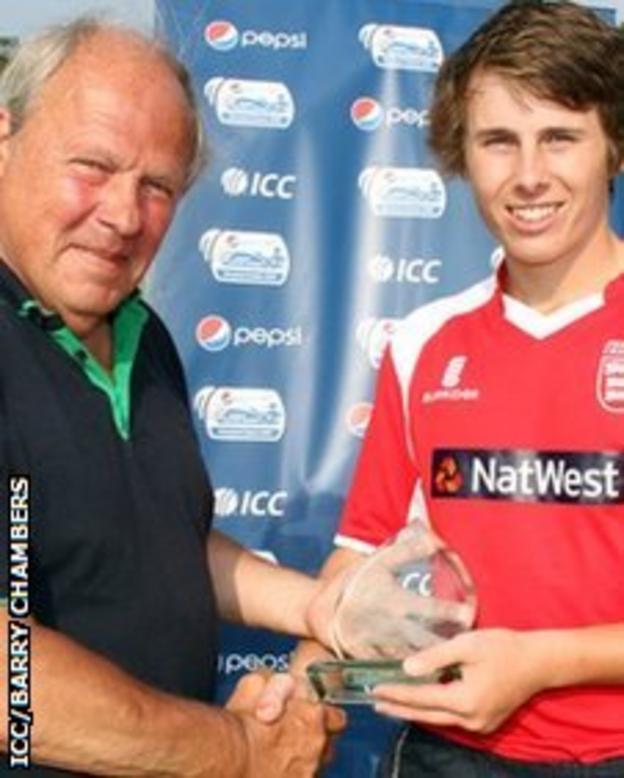 Youngster Luke Gallichan led the way as Jersey sealed a six-wicket victory over Kuwait in their Division Six ICC World Cricket League opener.
Gallichan made an unbeaten 72 from 114 balls - including seven boundaries - as his side reached their target of 180.
The 18-year-old came in with Jersey struggling on 8-2 in the third over, but his 97-run partnership with Corey Bisson steadied the ship for his side.
"Luke's performance was sensational today," said Jersey coach Craig Hogan.
"To be told that he was going to be sent in as a 'lunch watchman', and to bat the way that he did and carry his bat was brilliant. I'm very proud of him.
"I thought we played well in the latter half of the game but we started poorly. We didn't bowl in the areas we needed to on this sort of wicket and it was disappointing that Kuwait were able to get away from us early on.
"But we would've taken 180 at the start of the day and we took some really good catches and bowled in better areas in the middle overs."
Jersey's Andrew Dewhurst joined Gallichan at the crease and made an unbeaten 33 from 35 balls to see Jersey over the line in the 42nd over.
Earlier, Jersey, who are hosting the tournament, bowled Kuwait out for 179 in 39.5 overs with Tom Minty making a valuable contribution by removing Kuwait dangermen Muhammed Khan and Kashif Sherif.