Alec Stewart: Surrey have not batted well enough in FLt20
Last updated on .From the section Cricket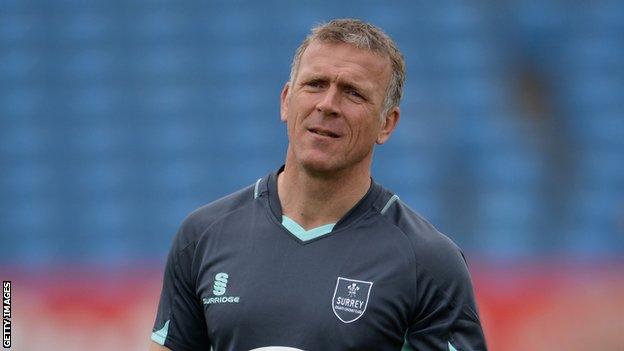 Executive director Alec Stewart says Surrey's batting has been below par in this season's FLt20 competition.
"We managed to win four on the bounce through some very good bowling and good fielding," he told BBC London 94.9.
"The batting needs working on. I want to see players play with a more positive intent, but not a reckless intent."
Surrey, who have won four and lost three of their group games, have only posted two totals above 150 in their seven matches.
Stewart, who is overseeing first-team affairs after the departure of Chris Adams last month, says their batsmen must keep their focus and not be panicked should they lose early wickets or wickets in quick succession.
"The batters know, as a group, they have got to post bigger totals, take sensible options and make sure we have a total which the bowlers then have a chance to defend," he said.
"You have to rebuild but there are ways of rebuilding, without coming to a full stop, to still tick the scoreboard over. That is a skill in itself.
"You are going to lose wickets because it is an attacking game. We have got to make sure we take the right attacking options and don't give ourselves next to no chance in defending a total which is 30 or 40 runs light of what it should or could have been."
Surrey are now three points behind South Group leaders Hampshire and second-placed Essex and two points behind Middlesex, with a game in had on the two latter counties.
Despite that, Stewart remains confident of their chances of progressing to the quarter-finals.
"It is in our hands," he said. "We want to treat each game as a semi-final. We go to Lord's and have to win, then play Kent at the Oval and then finish at Cheltenham.
"We know exactly what we have to do. We just need to go and do it."