Hampshire's Dimitri Mascarenhas plans coaching career
Last updated on .From the section Cricket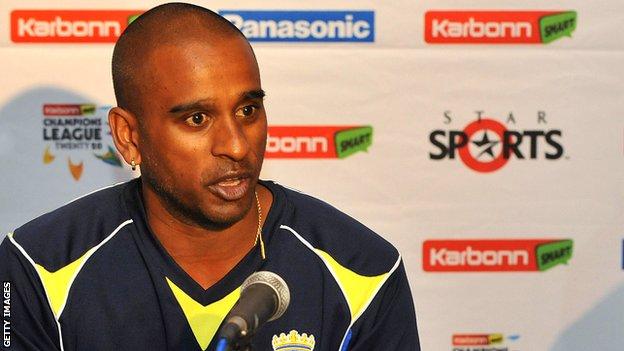 Hampshire all-rounder Dimitri Mascarenhas says he hopes to go into coaching when he brings his 18-year playing career to a close at the end of the season.
The 35-year-old will retire at the end of the campaign, with a long-standing Achilles injury forcing him to quit.
"I'm looking to go into coaching, that will be the next step for me," Mascarenhas told BBC Radio Solent.
"I've enjoyed doing that while being injured - that is the next step."
He added: "I've got a couple of big months coming up and I would like to end with a trophy.
"Coaching here could be an option, we'll have to wait and see."
Mascarenhas said the decision to call time on his career was the toughest of his life and paid tribute to several key figures who have helped him over the years.
"This place has been home," he continued. "It all started with Paul Terry [former Hampshire coach] bringing me over in 1996 and I thank him for that.
"Who knows where I would have been without him. It's been an amazing journey. The club is getting bigger and better and it's a shame I can't be a part of that.
"It's hugely different and I take my hat off to Rod Bransgrove, the Hampshire chairman. It's been his mission to make this ground into an international arena. All credit to Rod - he has been brilliant to the club and the players and is instrumental in keeping the players happy.
"Shane Warne was the best player we had here in my time. And, when I first joined, to get the opportunity to play Robin Smith was huge."
Mascarenhas now hopes he can go out with a bang and add to his haul of five domestic trophies.
"We are still in contention to win two and can still be promoted," he said. "Fingers crossed I can be a huge part of that."