Stephen Peters targets Northants return against Gloucs
Last updated on .From the section Cricket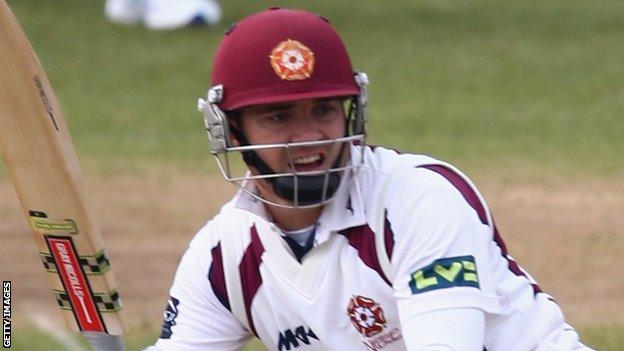 Northants captain Stephen Peters says he feels more confident after scoring 92 on his comeback from injury.
The 34-year-old made the score in a Northants second XI game against a Scotland Development XI on Tuesday.
Peters told BBC Radio Northampton: "It's all about confidence - I got through pain free and I enjoyed it.
"I'd really targeted [being back for] the last six County Championship games of the year and a really important run-in for us."
Peters had not played since breaking his finger in the nets in May.
He had scored 311 runs in six first-class innings, including 106 against Kent, before his injury.
"You've got to come back at the right time," he said.
"The T20 period has given me that extra bit of time to be sensible. You're always eager to get back out there but if you force it, you can put yourself out. I'm probably a week ahead of where I was hoping to be.
"I'm playing again for the second XI next week and then the Gloucestershire game starts on Friday. I don't see any reason why I shouldn't be back out on the park for that."
Northants are second in County Championship Division Two, eight points behind Lancashire after two defeats to the Red Rose.
Peters missed both those matches and said: "I'm not saying I would've made any difference but when you see your team down, I'd rather be out there with them.
"We knew we were going to have some blips along the way and we didn't think we'd be 50 points clear with six games to go. That would've been unrealistic.
"But I know that the coaches and the lads see quite a few of those games as winnable."
In Peters' absence, the club's one-day captain Alex Wakely has led the Steelbacks to the top of the Midlands, Wales & West Group in T20.
"It's been brilliant," said Peters.
"I've been very proud, really. The guys have worked tirelessly on and off the field and hopefully we're one more win away from a home quarter-final."