Murray Goodwin and Jim Allenby 'vital' for Glamorgan
Last updated on .From the section Cricket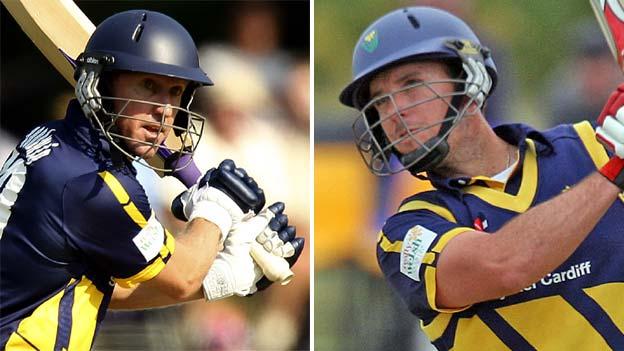 Glamorgan are hopeful they can persuade Murray Goodwin and Jim Allenby to stay beyond their current deals.
The pair have stood out for Glamorgan this season and have attracted interest from rival counties.
Chief executive Alan Hamer says it is "vital" both are retained as he prepares to finalise contract negotiations.
"If you're going to improve year-on-year you need to retain your best players," said Hamer.
Allenby, 30, and Goodwin, 40, are Glamorgan's top run scorers in the County Championship this season, with only two runs separating their individual totals from 10 games.
Both have also proved their worth in the limited-overs format, keeping Glamorgan in contention for the knockout stages of the Yorkshire Bank 40 and Friends Life t20.
Australian Allenby, who joined Glamorgan in 2009, has revealed a "couple of clubs" have made their interest known about signing him for next season, and stressed his desire to play for a successful club.
"Jim is a key player. I've been speaking to Jim on and off for the last six months about his future," added Hamer.
"We met with his representatives last week and I'm hopeful we can sort something out sooner rather than later.
"He's a key players for the club, I think his record speaks for itself. The supporters enjoy seeing him play. he's given incredible performances in all forms of the game this year and he knows how important he is for Glamorgan."
Having joined from Sussex last year, Goodwin has triggered an automatic 12-month extension to his one-year deal after surpassing performance-related targets.
But the Zimbabwean wants the stability of a two-year deal and says he will keep his options open.
Hamer said: "I've been liaising with Murray and I plan to sit down with him once the t20 has finished.
"He's been key for us. He's been a great signing, not just the runs he's scored in the four-day and one-day games but also in terms of his impact on our other batsmen.
"He's been batting with some of our younger batters and has been constantly giving them advice and encouraging them. He's been a huge support to the club so we'd love to keep Murray here."
Glamorgan face Northamptonshire in the t20 on Friday night in Cardiff knowing that a win against the Midlands, Wales & West group leaders could clinch a quarter-final place, if other results go their way.