Leicestershire: Joe Burns to return to Australia
Last updated on .From the section Cricket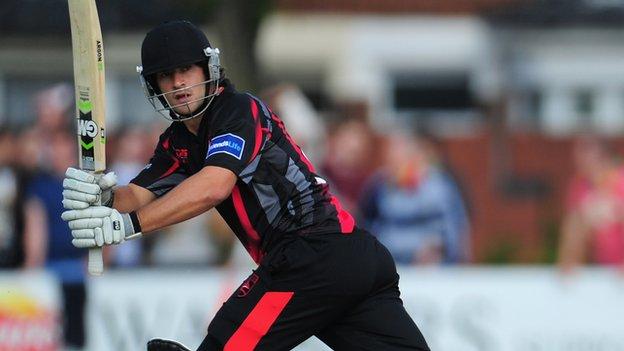 Leicestershire's overseas player Joe Burns will return to Australia for treatment on a hip injury.
The 23-year-old batsman, who has scored 214 County Championship runs in five matches, averaging 30.57, is hoping for a return to Grace Road in the future.
"I'd love to do it all again," the Australian told BBC Radio Leicester.
"I have had a problem for the last few weeks. It's fair enough for my home team of Queensland to recall me to rest before the Champions League."
Australia A international Burns, who was signed added: "It's disappointing but that's cricket I suppose.
"It has been something I have managed for a long time. It's been very frustrating because I have not been able to play at 100% in most games. I have had to cut quite a bit of training out to make sure I can play.
"It's been a great experience and a great club to be a part of. The most disappointing thing is not finishing off the season."
Leicestershire chief executive Mike Siddall told the club website: "I'd like to thank Joe for his contribution to the team and wish him well in his career in Australia."