Pressure on Glamorgan for FLt20 showdown admits Matthew Mott
Last updated on .From the section Cricket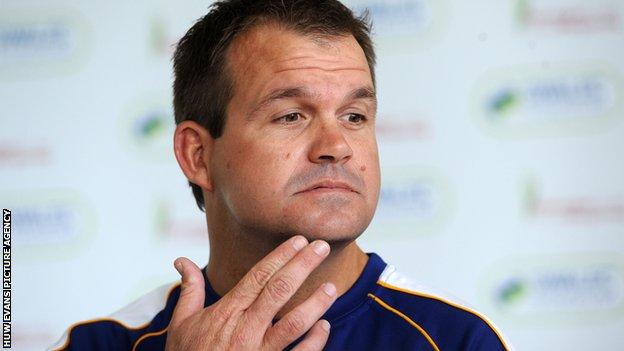 Matthew Mott is backing his Glamorgan players to win their final FLt20 group game at home to Gloucestershire on Tuesday and reach the quarter-finals.
But the coach hopes that critics will not write off their season if they fail to reach the knock-out stages.
"It's such a fickle game. From a supporters and club point of view there's a lot riding on it," said head of elite performance Mott.
"As a group of players we know there's a lot of good things happening."
The top two teams from each of the three groups qualify automatically for the quarter-finals and will be joined by two of the teams that finish in third place.
Victory against Gloucestershire in Cardiff would leave Glamorgan on 12 points and guarantee them a place as one of the two best third-placed teams.
But they could still qualify in second place - with a potentially more favourable draw - in the Midland, Wales and West Group if Warwickshire beat Somerset.
"It's clear what we have to do, we have to go out and win this game and if we do then it's in our hands," Mott said.
"The only thing that can stop us I think is the weather and the forecast is changing all the time, but clearly we need two points. It's pretty simple for us.
"All we can control is how we play against Gloucestershire and the guys have prepared well, we've had a really good fielding session, a lot of netting and we're in good stead.
"We would love to have already sown this spot up, but we're still in a lot better position than we have been for a couple of years so there's a lot of optimism in the group."
Mott realises that another year without silverware could be construed as more disappointment by critics, but believes that the team has been far more competitive than in recent seasons.
"As players and coaches you're always judged by the on-field results and a lot of people don't see the work going on behind the scenes and the things that have been important to this club," Mott added.
"I won't lie to you, a lot does depend on it because people in the cricket world judge success pretty harshly and failure in the same light.
"But the fact that we're competing in this competition and the YB40 as well means there's some good things happening.
"Getting the stability and the processes in place that ensure long-term success are very important but it is easy to judge on the short-term stuff.
"You'd like to think that the people that know their cricket and make the decisions understand that one result doesn't make or break this group of players and there's a lot more to look forward to.
"We haven't had the opportunity to play in finals for a long time and even though we've lost a couple of games out of the last few, we've still almost won as many games as most of the teams in the country."