Guernsey cricket: Nic Pothas seeks end to 'soft underbelly'
Last updated on .From the section Cricket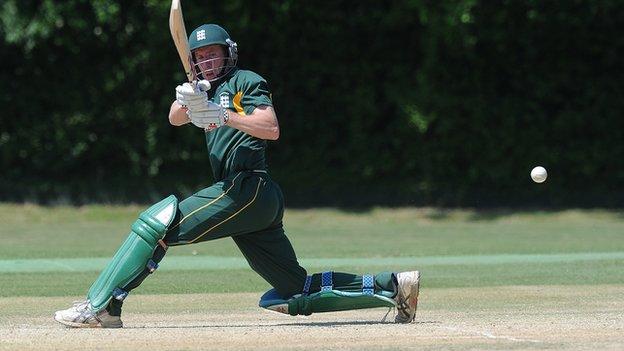 Guernsey director of cricket Nic Pothas says the island's domestic game needs to toughen up in order to drive up standards at national level.
The ex-South Africa international has been in charge since December 2012.
"Traditionally the Guernsey cricketers had a soft underbelly and it's shown in some tournaments.
"I want to distance ourselves from words like 'talented' and 'potential'. Those are ugly words which stop people moving forward," he told BBC Guernsey.
Pothas said that he was aware of the need for a social side to the game in Guernsey, but insisted that club cricket needed to become much more intense to provide the players at representative level with the sharpness required.
"It would be massive - taking people out of their comfort zones and playing against opposition that are going to swear at you and be in your face," said Pothas.
"It doesn't happen on the island - everyone knows each other and socialises together so it's very hard to recreate that environment here."
The former Hampshire wicketkeeper also suggested that more players might need to think about playing club cricket away from Guernsey.
In early August Pothas will take Guernsey's under-19 cricketers to the Netherlands for the European Championship, where they will face the likes of Ireland and Scotland.
"We'll see how far behind we are and what we need to do to get there," he said.
"If you go in with a bog-standard tactic against a top side, you should expect that they'll win, so we'll try to do something a little bit left-field."
Nevertheless, Pothas said the opportunity was there for some players to catch his eye and make the step up to the senior national team.
"I'll be picking guys out of this group to join the national squad," he added.
"It'll be guys with a growth mindset who are willing to learn and only have to hear things once or twice before they execute it rather than the 45 times I have to say things at the minute.
"They need a high work ethic, to be combative and willing to fight in games."