Ashes 2013: James Taylor can succeed in Tests - Alec Stewart

By Alec Stewart
Ex-England captain & Test Match Special summariser
Last updated on .From the section Cricket75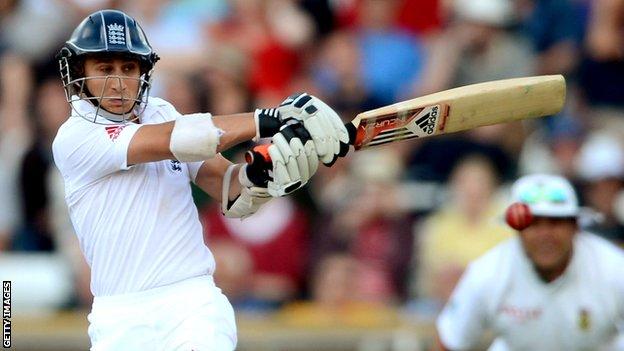 England will give Kevin Pietersen as long as possible to prove his fitness for the third Ashes Test against Australia at Old Trafford.
He has worked incredibly hard with the England medical team since Lord's to give himself every chance of being fit and is desperate to play in a Test that could see the hosts retain the famous urn.
However, it is impossible to predict how quickly an injury will heal. With batsmen no longer allowed to use a runner, England will not want to take any risks and Pietersen will only play if he passes a strenuous fitness test on his troublesome calf.
If Pietersen misses out, I fully expect James Taylor to come into the side.
I have read some talk about England playing five bowlers, but, given that their batting is the one area that has not been firing on all cylinders, I can't see why they would want to take a risk.
Taylor is the form batsman in county cricket this season. He played two Tests against South Africa last year and didn't quite do enough to earn the right to go on tour in the winter, but has since scored heavily for England Lions and Nottinghamshire.
Given the chance to prove his credentials against Australia during a one-off appearance for Sussex, he responded in the best possible way with an unbeaten 121.
Taylor was one of my tips for the top four years ago when I saw him score an excellent 207 not out as a teenager for Leicestershire against Surrey at The Oval. Since then I have followed his career with interest and watched him develop into the consistent performer he is today.
People have scrutinised his technique, but to me it is always a case of how many runs, and not how you score them.
Wherever Taylor has been he has found a way of scoring runs. Playing Test cricket is a big step-up in class but I believe he has the temperament and mental strength to succeed.
Not everyone can be as pleasing on the eye as Ian Bell, but the biggest secret to batting is to score runs when you are out of form and Taylor has proved he can do that.
I always prefer to focus on what people can do, rather than what they cannot do. People said Jonny Bairstow could not play the short ball last year after he was given a bit of trouble by West Indies fast bowler Kemar Roach, but you don't hear anybody questioning Bairstow's technique against bouncers now.
Taylor has scored runs at every level - now let's see if he can do it on the biggest stage of all.
As well as drafting in Taylor, England also recalled Chris Tremlett and Monty Panesar to their squad for the Old Trafford Test.
I'm delighted to see Tremlett back in the set-up because I have witnessed first hand how hard he has worked, along with the Surrey medical staff, to get back to fitness.
Tremlett is a proven Test bowler, whose pace and height allow him to generate the type of bounce that puts all batsmen in difficulty, and I know he impressed England coaches Andy Flower and David Saker during training days at Lord's last week.
At Surrey, we have noticed a marked improvement since we started deploying him as a strike bowler, in short spells of hostile fast bowling.
Instead of sending down eight or nine overs with the new ball at the start of an innings, he will bowl five or six and then come back for four-over bursts over the course of the day. That way, Chris can put his all into every ball, knowing he doesn't have to hold something back to get him through a long spell.
The recalls for Tremlett and Panesar resulted in Steven Finn and Graham Onions being left out of the squad for Manchester.
Although both men will be disappointed, their chances of forcing their way back into the set-up are much better served by bowling for the counties in Middlesex's championship fixture with Durham than by carrying the drinks for England.
At 2-0 up in the series, England are pondering changes from a position of strength. Australia, meanwhile, have all the problems.
The tourists have concerns over the form of most of their players and will be giving plenty of thought to their batting and bowling line-ups.
David Warner will have a point to prove if he is recalled to the side, but I am yet to see concrete evidence that he offers much more than Phil Hughes.
Bowling-wise, I would be very surprised if they do not select off-spinner Nathan Lyon, probably at the expense of young Ashton Agar.
The 19-year-old thrilled us all with his 98 at number 11 at Trent Bridge, but he is picked to take wickets and his two scalps so far in the series have come at an average of 124.
Lyon, who has a decent Test average of 33, took nine wickets on his last appearance, against India in March.
Australia may need a repeat performance if they are to have any chance of getting back into the series.