Ashes 2013: Cricket Australia asks for DRS clarification
Last updated on .From the section Cricket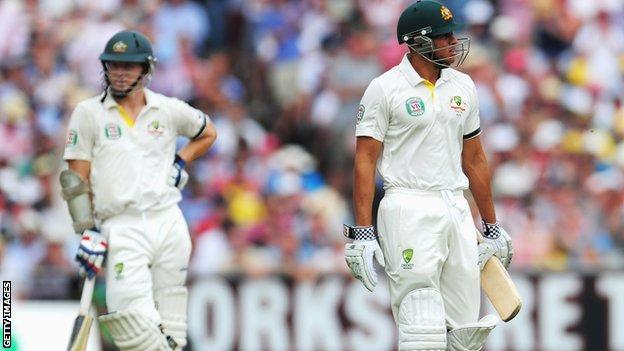 Cricket Australia and the Australian prime minister have criticised the decision to give Usman Khawaja out in the third Ashes Test at Old Trafford.
Khawaja was ruled to have been caught behind despite video replays suggesting he did not hit the ball.
Now Cricket Australia has asked the International Cricket Council to clarify the decision review system.
Australian PM Kevin Rudd tweeted: "That was one of the worst cricket umpiring decisions I have ever seen."
Legendary Australia leg-spinner Shane Warne said: "That's a shocker, that's an absolute shocking decision."
The decision review system has been under constant scrutiny during the Ashes following a series of controversial decisions.
The latest incident will only increase concerns.
On-field umpire Tony Hill gave Khawaja out for one shortly before lunch on the first day, believing the batsman had edged Graeme Swann to wicketkeeper Matt Prior as he attempted to drive the off-spinner.
Khawaja asked for the decision to be reviewed, but, despite Hot Spot technology appearing to back his view he had not touched the ball, television umpire Kumar Dharmasena upheld Hill's call.
Cricket Australia chief executive James Sutherland responded on Twitter by calling on the world governing body to account for how the procedure was used in this instance.
"CA chief executive officer James Sutherland seeks clarification from the ICC on the dismissal of Usman Khawaja," Cricket Australia tweeted.
Sutherland added in a statement to the press following the close of play: "Cricket Australia has sought an explanation from the ICC on the dismissal of Usman Khawaja. In our view, the on-field decision and referred decision using DRS were both incorrect.
"CA remains a strong supporter of DRS and believes it is important that cricket continues to improve and build confidence in the DRS.
"We understand and accept that from time to time mistakes can be made. However, in this instance, on behalf of the player, the team and all cricket fans, we feel duty bound to seek further explanation as to how this decision was arrived at."
The England and Wales Cricket Board also took to Twitter to question DRS after Jonathan Trott was also controversially given out lbw in the first Test at Trent Bridge last month.
Australia opener Chris Rogers, who hit 84, was the non-striker when Khawaja was given out.
He added: "Even in real time I didn't think he hit it, I didn't think he was anywhere near it.
"I thought it was not out and that's why we reviewed it. And from what we saw on the replays, I think even the England guys had given up hope of it being out."
Legendary Australia leg-spinner Warne said: "There was daylight between bat and ball; there was no hot spot and no noise."
Australia, who are 2-0 down in the series and need to win the Test to have any chance of regaining the Ashes, were 303-3 at the close of play.