Ashes 2013: Michael Clarke stars as DRS flaws are exposed again

By Jonathan Agnew
BBC cricket correspondent
Last updated on .From the section Cricket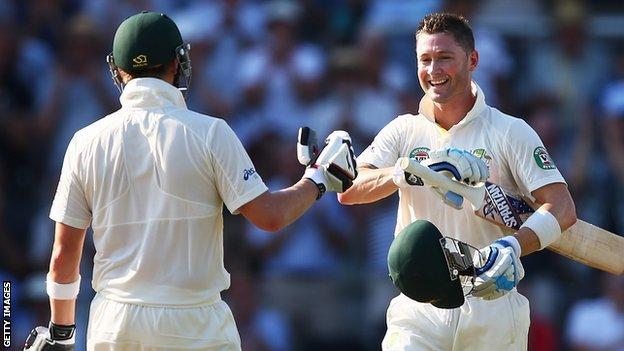 When I interviewed Australia captain Michael Clarke before the start of play, he said: "It's one thing to win the toss, but now we've got to go out and bat."
So for him to score a hundred under so much pressure is a brilliant effort. He had a lot on his shoulders after losing the first two Tests but he has stood up and taken some responsibility - on and off the field.
There was a bit of a feeling that he was trying to wash his hands of things, especially when he stepped down as a selector before the start of the series and dropped down to number five in the order. But he has come back up one place and has played superbly.
Chris Rogers also played really well, and differently to how he normally plays. He usually just clings to the crease but on Thursday he thought: "To hell with this. This could be my last Test match; if I don't get any runs I could be gone."
He was positive but played nice and straight, through mid-on, mid-off and a bit through extra-cover. When he was out it was because he got too ambitious and tried to flick Graeme Swann through square leg. He should have had his maiden Test hundred today; he'll be kicking himself.
England bowled well but the pitch worries me. For a Test pitch in this country to be spinning as much as that on the first day only strengthens the view that it has been requested by England and made to order.
I know it has been dry but you can still use a hosepipe to water it. It is a perfectly fair pitch because it is the same for both sides. However, it just so happens that these dry pitches are favouring England.
That said, Thursday was Australia's day, despite the disappointment of the Usman Khawaja business, which I will return to. Before the start of play we thought 450 was a good score, until Australia slipped to 129-3.
But even if Australia get 350-380, have a bit of luck and bowl out of their skins - especially their spinners, which is a big 'if' - that could be a decent total.
A lot of the newspaper headlines will be about the decision review system again and it is very frustrating and disappointing that in an Ashes Test we are talking about something that should only be a minor aspect of the contest.
I have always felt that the game has pushed DRS too quickly, too soon. I have gone a bit quiet on that over the last couple of years because it is here and it is pointless to rail against technology that is being used.
But this series has shown there are still issues with it technically and in terms of its implementation by umpires. The TV umpire has to find good reasons to overturn the on-field decision and in the case of Khawaja's dismissal there were plenty.
There were several instances on Thursday that led you to believe there are still issues with DRS. Hot Spot did not seem to reveal itself at all, and there were strange things going on with the Snickometer marks, which were not matching up to where the sound looked like it was being made.
DRS is not satisfactory at the moment and, unless it is going to be 100% accurate, what is the point of it? It is still causing all these arguments and it was supposed to come in and kill the arguments stone dead.
With each passing day of this Ashes series, India, who have taken a lot of stick for their anti-DRS stance, have been proved to be more and more right. It is just not working properly.
The authorities will not withdraw it but they are going to have to do something about it pretty quickly because it is losing credibility - and once it loses credibility there are going to be more problems.
It is great to see Ashes cricket back at Old Trafford after a break of eight years. It needed Lancashire to miss out on an Ashes Test in 2009 for them to think, 'Come on, we've got to sort this place out a bit'. And they have.
There is still a long way to go but you can close your eyes and imagine how this place might look in 10 years' time. It will look great.
The only thing it has not got is enough cover, so people will have to come with everything at the weekend - hats, waterproofs, umbrellas, the works - if the weather forecasters have got it right.