Ashes 2013: Australia's fightback is best thing to happen to Ashes
By Ben Dirs
BBC Sport at Old Trafford
Last updated on .From the section Cricket67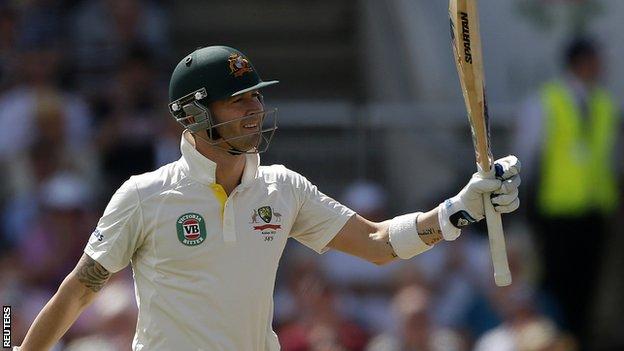 There are those Englishmen and women to whom every Australian boundary is a jab to the heart. Perhaps only a needle prick, but an irritant nonetheless.
So the suggestion that Australia's dominance in the third Ashes Test is the best thing to have happened in this series will have die-hard England fans clutching at their chests. Especially if the suggestion is made by an Englishman.
England's recent pre-eminence over Australia is payback, the argument goes - payback for all those years of embarrassment, humiliation and oppression: mow the Aussies down and roll them into the ground so they don't come again.
For many of those who followed England during the wilderness years - between 1989 and 2003, when Australia won eight straight Ashes series - the argument is unimpeachable. But for others who like their sport to be vital and compelling, the argument is less credible: a rivalry that flows furiously in one direction erodes the senses; a rivalry which eddies to and fro elevates the soul.
Michael Clarke's 187 on day two at Old Trafford, which buttressed Australia's huge first-innings total of 527-7 declared, did a good job of subduing the Manchester faithful. But it was a shot in the arm for the series.
For the tourists, having come so close to upsetting England in the first Test at Trent Bridge, England's 347-run victory in the second Test at Lord's could quite easily have snuffed out their spluttering spirit and nudged them over a cliff.
Clarke made his Ashes debut in 2005, a classic series involving two lustrous sides which England won, and he is the only man in this current Australian outfit connected to his country's glorious, all-conquering past. And it showed.
"Michael Clarke batted supremely well," said England spinner Graeme Swann, who took 5-159 in Australia's first innings but wasn't able to winkle out Australia's obdurate captain.
"As their one stand-out, superstar batsman he was due a score and he delivered. You've got to pay full credit to him, it was a magnificent knock."
For more than seven hours, until his dismissal by Stuart Broad after lunch, Clarke looked every inch Australia's last great batsman. There are those who claim that title belongs to Ricky Ponting, who retired from Tests last year. But if Clarke is not great then it is a sad outlook for any other batsman playing the game.
Since replacing Ponting as skipper, Clarke has scored 10 hundreds in 27 Tests and has now made 24 in all. He is joint sixth with Greg Chapple in the list of Australian century-makers, has made five scores in excess of 200, with a highest of 329 not out, and averages 52.
It is scary to think where his side would be without him. Australia have lost their last six Tests, five of them with Clarke in the side. Indeed, substitute Clarke for Graham Gooch and this Australian outfit begins to resemble England sides of the early 1990s - rickety vessels piloted by an upstanding captain.
Luckily for Australia, Clarke is only 32. Unluckily for Australia, his back is ailing. But it is not only Australians who should keep their fingers crossed that Clarke's back holds up for the rest of the series and far beyond.
Because great players in any sport do not operate in a vacuum, but suck lesser players into their slipstream. Steve Smith might have been out four times during his innings of 89, and finally perished playing a dreadful shot, but the fact he was able to hang around as long as he did owed much to Clarke's example.
And because sport only reaches the heights and becomes totally absorbing when two rival individuals or teams are pushed to the limit and therefore defined and authenticated by their respective deeds.
As nice as an England whitewash might have been, an authentic rivalry is - arguably, I'll admit - far more fulfilling.
DRS throws up more issues
If day one of the Old Trafford Test was all about the frailties of the DRS system, day two provided concrete proof that batsmen do not always know whether they have hit the ball or not, which only muddies the waters further.
First, Australia's David Warner referred an on-field decision when everyone else in the ground, plus millions watching on television, knew he had edged it behind. Then, Tim Bresnan chose not to refer when he thought he had hit a ball that had actually missed his bat and brushed his hip.
"I thought he had hit it," said Clarke, who was at the non-striker's end when Warner was given out. "But in fairness to Davie, if you look at the replay he actually hit his pad at the same time, so he didn't feel the ball hit the bat."
Speaking about the dismissal of nightwatchman Bresnan, Swann said: "'Tim heard a noise so he thought he hit it. It just goes to show that, whatever you guys think about batsmen walking or not walking, sometimes they generally don't know whether they've hit it or not. Poor old Bres couldn't believe the replay when he saw it."
Something to bear in mind before you start ranting and raving at the next batsman who fails to walk.