Ashes 2013: Rain set to disrupt final day of third Test
By Sam Sheringham
BBC Sport at Old Trafford
Last updated on .From the section Cricket336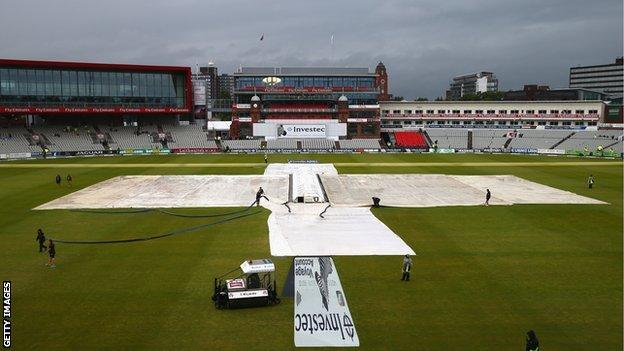 England could retain the Ashes with the help of the weather on Monday, as rain is forecast to hit Australia's hopes of winning the third Test at Old Trafford.
Heavy rain has fallen in Manchester and is forecast to continue during the day.
England only need to draw the series to retain the Ashes, and they lead 2-0 with two Tests to come after this one.
The hosts have been in charge of the series until Old Trafford, winning the first Test by 14 runs before thrashing Australia by 347 runs in the second.
And even if the rain does not affect proceedings on Monday keeper Matt Prior says England have "a lot of confidence" they can save the third Test.
Prior admitted England would be "more than happy" with a washout, but added: "Forecasts in England are pretty good at being wrong and it would be very dangerous for us to rely on rain or forecasts."
The rain is not forecast to clear until 18:00 BST on Monday.
If the weather did clear up earlier, England could be required to bat for as many as 98 overs to preserve their 2-0 lead in the series, but Prior is undaunted by the prospect.
"The one thing about this England team is that we have become tough to beat," he explained on Sunday. "We've been in this position a few times in the recent past. We'll have a lot of confidence going into tomorrow that we can save the Test.
"It's a good batting wicket - there is the odd ball that bounces and turns, but you'd expect that from a good Test pitch on the fifth day.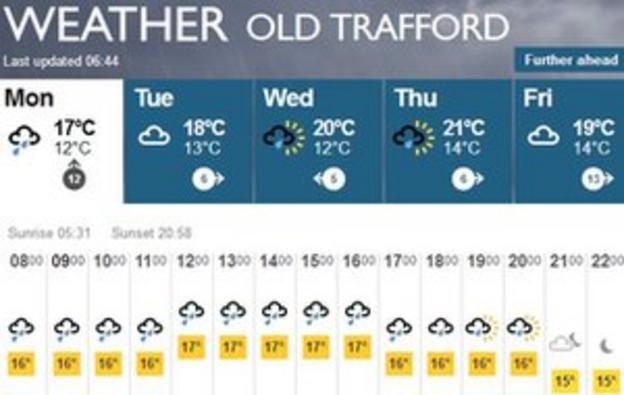 "The key will be getting through the new ball. When the ball gets softer it will still spin, but not as quickly, and it becomes harder work for the seamers as well."
Sunday's play, which saw England avoid the follow-on by scoring 368 all out, featured the latest in a string of controversies over the decision review system (DRS) as England claimed a catch behind after David Warner missed a pull at Stuart Broad.
Umpire Tony Hill's not out verdict was upheld by the third umpire when Hot Spot failed to show a mark on Warner's blade, only for the Snickometer - a technology aid not available to the officials - to indicate contact between bat and ball.
Prior said: "There was disbelief because he hit it and that was why we referred it. When you are that sure of it and it is still given not out that is quite frustrating.
"Whether the technology needs to be looked at, or how they use the technology, I don't know but I think that for the players at the moment it is the biggest frustration."