Surrey in confident mood for FLt20 - Stuart Barnes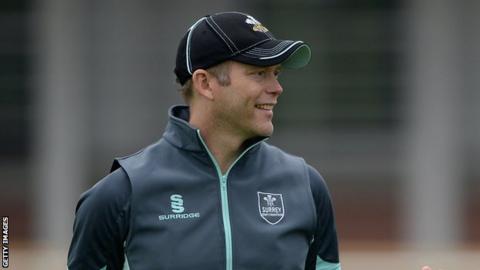 Surrey coach Stuart Barnes says his side are confident heading into their FLt20 quarter-final against Somerset.
The two teams meet at The Oval on Tuesday.
He told BBC London 94.9: "We're on the back of three wins from three against some good quality opposition who've put us under some pressure.
"We've managed to come through that and enjoyed those successes in the changing room. Now it's about piecing together how those wins took place."
He added: "Winning is a habit. It's about looking at what were we good at, what do we need to improve, having a look at Somerset and seeing what we need to execute on the day."
Both Surrey and Somerset qualified in second place from their respective groups.
Barnes, who took over day-to-day first-team duties in June following the departure of Chris Adams, believes the two sides are evenly matched.
"Somerset, historically, have done pretty well in the competition," he said.
"We look to test ourselves against the best and this tie is certainly going to do that.
"We've got one of the best death-bowling groups in the country, as have Somerset, so that's going to be an interesting match-up.
"What we've managed to do is get some decent scores on the board and as a fielding unit we've started pretty sharply in most of the games - certainly the ones that really matter - with lots of energy and lots of really good fielding skills backed up by some brilliant execution of bowling.
"The most important part of the game is near the end and we've managed to perform really well in those areas.
"Somerset are an extremely talented team and arguably whoever's here will see the two best death-bowling teams in the country."