Sam Robson: Middlesex man set for England-Australia dilemma
Last updated on .From the section Cricket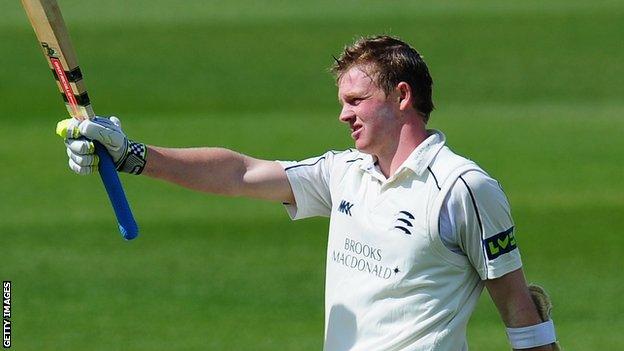 Middlesex's Angus Fraser says Australia-born batsman Sam Robson will have to choose between playing for England or Australia "sooner or later".
"He's going to have to make a decision sooner or later," managing director of cricket Fraser told BBC London 94.9.
"He will be selected somewhere if he carries on playing the way he is."
He added: "We have known for quiet some time [Robson would become eligible to play for England] but the word going around was 2014 so we thought we would leave it.
"We wanted to concentrate on his Middlesex cricket and try and protect him.
"A couple of weeks ago he changed his registration as it is worth money to us in PRFP payments [The England & Wales Cricket Board's Performance Related Fees Payment scheme] when he is England-qualified.
"While the whole situation does cause him a lot of time to sit and think about what you are going to do, it is a nice position to be in."
Robson, who was born in Sydney and is able to play in county cricket as a non-overseas player because of his British mother, has previously represented Australia at Under-19 level.
He has scored 993 runs at an average of 62.06 in Division One this season and made his career-best high score of 215 not out in May.
"It is better to have two groups vying for you to play for them than none," Fraser added.
"If you were in his shoes four days before a Test match at Lord's between England and Australia and the selectors phone you and say 'so-and-so has broken his finger, his knee's a bit dodgy and he's out of form - do you fancy playing?' it's not obvious.
"Your head might say one thing and your heart another.
"He is very committed to Middlesex and English cricket and I think he heart is here. I don't see anything changing on that."
Robson, whose current deal at Lord's runs until the end of next season, joined Middlesex after being spotted playing for Eastern Suburbs and made his first-class debut for the county in 2009.
"[Middlesex bowler] Tim Murtagh is the reason he is over here," Fraser continued.
"He identified him playing for Eastern Suburbs in Sydney and said he was worth a look at.
"We thought he was good and he had an outstanding year when we won the second division championship and he highlighted his promise.
"Last year was a bit difficult with the pitches being tough but this year he has come through again.
"If you look at openers around the county he is up there with them and he has age on his side.
"He is a top lad and a good player."