Ashes 2013: England's work not yet done - Jonathan Agnew

By Jonathan Agnew
BBC cricket correspondent
Last updated on .From the section Cricket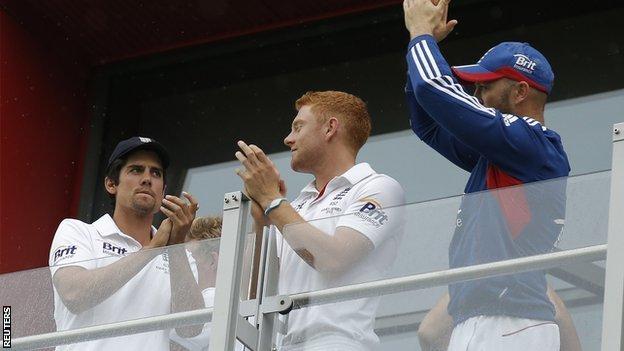 It was a slightly anti-climactic way for England to retain the Ashes but if you are an England fan you won't be too worried about that - it is a long time since their side wrapped up a series against Australia so quickly.
Alastair Cook's team probably would have lost that game if it had not rained on Monday but that is just the way cricket works. The fact is they didn't and they had done the hard work in the previous two games anyway.
England's players will have a little celebration and say 'great, that's the first objective, but we've still got a lot of work to do'. Now they have got to win the series, then try to make it 4-0 - then go over to Australia and do it all again.
So they still have lots of targets to aim at and they will go to Chester-le-Street for the fourth Test, starting on Friday, knowing they did not play well in Manchester and that they have plenty of work to do.
Australia will be very frustrated that they were not able to win the third Test and will feel they were robbed by the weather. Which is why they will take a lot from the game.
But however well they played in Manchester there are still the same questions that need answering: Who is going to come in first wicket down? Where should Michael Clarke bat? Will Phil Hughes come back in?
Apart from captain Clarke, nobody else has really performed with the bat - that remains their weak point. And the worry for Australia is always the same: if Clarke gets out cheaply will they fall in a heap again, like they did at Lord's?
The principal difference between the sides has not only been runs but also the way the runs have been scored: they are almost all dashers in Australia's batting order, even Clarke plays shots.
Chris Rogers is the one stickler, but the other guys flash it around, get in and get out - the best example being Shane Watson, who rarely kicks on to get the big, solid score you need to set up a big total in a Test match.
In contrast, England have got Cook, Joe Root and Jonathan Trott, all of whom are head-down, big-innings batsmen.
In addition, Australia are totally outgunned in the spin department - for Nathan Lyon to only take one scalp on that Old Trafford wicket was pretty disappointing for him.
Even when Swann isn't taking wickets he keeps ends tight, he gives control to the attack and Australia's spinners have not even been able to do that.
In terms of England's seam attack, Graham Onions should come in for Tim Bresnan at Durham. Not just because it is his home ground and he knows that pitch, but because he is in good form and I like to see good form rewarded: there have to be incentives in county cricket.
Onions will bowl a lovely full length, quite similar to Australia's Peter Siddle at Old Trafford, and his type of bowling will be very well-suited to the match. It is a huge event for Durham County Cricket Club and it would be great to see one of their players involved.
I have been on lots of England tours to Australia which the hosts have wrapped up early and it is difficult for players on the losing side to stay motivated. However, while normally the losing side has to wait 18 months for the chance to put it right, this time the next series is only round the corner.
So Australia's players - and their new coach Darren Lehmann - have still got a huge amount to play for. For a start, they can still square this series, that is their immediate motivator. That said, I don't think they are good enough to.
England have not played their best so far and have got some improving to do, but I think Australia played about as well as they can in this match. You expect Clarke to score runs but their batting in general is too hit and miss.
Their seam bowling is good, and add Mitchell Johnson or James Pattinson to their attack in Australia and they will be a handful. But the pitches will be more of the same for the rest of this series - they will take spin, they will be dry and there will be reverse swing at The Oval. All things considered I would be amazed if Australia squared the series.
The Ashes are gone but there is an awful lot to play for on both sides. That will keep us watching these last two Test matches with great interest.